WHY THE AACN RECOMMENDS USING A COMPETENCY-BASED CURRICULUM
Apr 25, 2022, 16:05 PM
<2-min. read> The AACN's new Essentials document defines quality in nursing education and advises the use of a competency-based curriculum.
---
THE AACN ESSENTIALS ARE MORE THAN A CHANGE FOR NURSING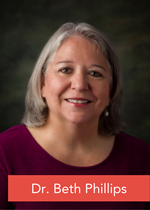 The newly released AACN Essentials isn't a change for nursing education. It is a transformation.
Beth Phillips, PhD, RN, CNE, CHSE, Strategic Nursing Advisor, and Kelly Simmons, DNP, RN, ATI Nursing Education Consultant, closely follow the guidance and research that the American Association of Colleges of Nursing (AACN) delivers. So, when the new AACN Essentials was released, the pair spent hours reviewing the document.
---
LEARN MORE ABOUT ATI & THE AACN ESSENTIALS
---
Their research led to a decisive conclusion: The AACN Essentials was pointing toward a transformation of nursing.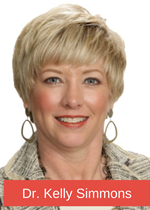 Why is transformation needed? Four key reasons:
1. A rapidly evolving healthcare system
2. Different workforce expectations
3. A move from care in hospitals to the community
4. An explicitly defined need for professional nursing-practice readiness — an obvious nod to the need for stronger clinical judgment skills.
To address these reasons, the new Essentials advocates for nursing education to implement a competency-based framework.
WHAT YOU CAN DO: CROSSWALK YOUR CURRICULUM
ATI's crosswalk document maps your curriculum with the new domains, competencies, and subcompetencies. Use it to:
Identify gaps.
Determine if your curriculum fully integrates the competencies.
Identify activities to assess achievement of competencies.
Brainstorm how to include/assess all competencies.
WHY ADN PROGRAMS SHOULD CARE ABOUT THE AACN ESSENTIALS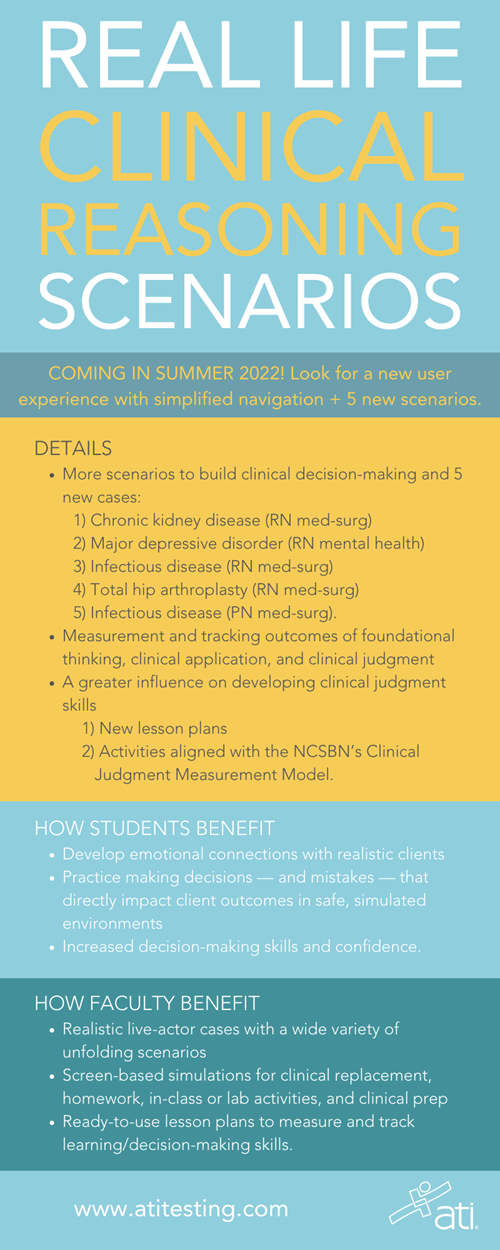 The AACN created the Essentials for baccalaureate and higher nursing programs but recognizes many students move from ADN programs at community colleges to BSN programs. As a result, the AACN endorses the creation of articulation agreements between ADN programs and BSN programs to prepare students for this academic progression.1
NEXT STEPS FOR INCORPORATING THE AACN ESSENTIALS
• Discover how ATI's Program Manager has been updated to align with the new Essentials.
• See how Real Life is incorporating the Essentials (below and in the downloadable PDF at right).
---
DOWNLOAD THE INFOGRAPHIC AT RIGHT AS A HANDY REFERENCE
---
WHAT CAN HELP? ATI'S REAL LIFE CLINICAL REASONING SCENARIOS
Look for a new user experience with simplified navigation plus 5 new scenarios.
Available when? Summer 2022
DETAILS ABOUT ATI'S CLINICAL REASONING SCENARIOS
• More scenarios to build clinical decision-making and 5 new cases:
Major depressive disorder (RN mental health)
Chronic kidney disease (RN med-surg)
Infectious disease (RN med-surg)
Total hip arthroplasty (RN med-surg)
Infectious disease (PN med-surg).
• Measurement and tracking outcomes of foundational thinking, clinical application, and clinical judgment
• A greater influence on developing clinical judgment skills
o New lesson plans
o Activities aligned with the NCSBN's Clinical Judgment Measurement Model.
HOW STUDENTS BENEFIT FROM THESE CLINICAL REASONING SCENARIOS
• Develop emotional connections with realistic clients
• Practice making decisions — and mistakes — that directly impact client outcomes in safe, simulated environments
• Increased decision-making skills and confidence.
HOW FACULTY BENEFIT FROM THESE CLINICAL REASONING SCENARIOS
• Realistic live-actor cases with a wide variety of unfolding scenarios
• Screen-based simulations for clinical replacement, homework, in-class or lab activities, and clinical prep
• Ready-to-use lesson plans to measure and track learning/decision-making skills.
WHAT A USER SAYS ABOUT REAL LIFE CLINICAL REASONING SCENARIOS
"We utilized lesson plans for Real Life Scenarios during COVID-19 clinical replacement. These worked great and helped us organize [quickly] … It was an excellent alternative in a time when we were desperate." —Lauryn Norton, BSN, RN, Western Iowa Tech Community College (Sioux City, Iowa)
---
RESOURCES
1Academic progression in nursing: Moving together toward a highly educated nursing workforce. Accreditation Commission for Education in Nursing; March 2019. Accessed Nov. 3, 2021. https://www.aacnnursing.org/Portals/42/News/Position-Statements/Academic-Progression.pdf.
---