UNDERSTANDING THE CRUCIAL IMPACT OF DEVELOPING CLINICAL JUDGMENT SKILLS
No aspect of nursing today is more important than developing the skill of clinical judgment. NCSBN has zeroed in on this skill as the reason for creating a new version of the NCLEX (commonly referred to as Next Generation NCLEX).
Scroll down to find a variety of resources to help you further develop your students' clinical judgment skills.
---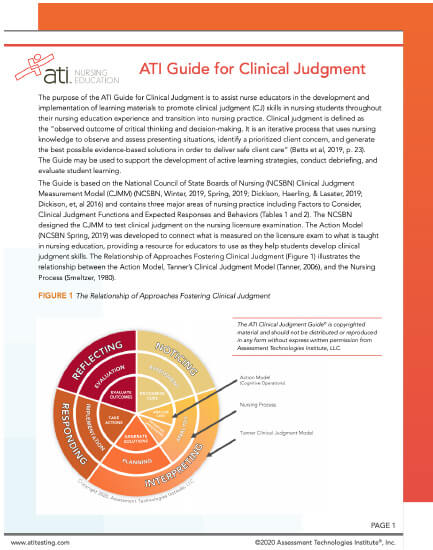 THE ATI GUIDE FOR CLINICAL JUDGMENT
TRAINING GUIDE: ATI'S EXPERT NURSE EDUCATORS
This paper assists you in developing and implementing learning materials to promote clinical judgment skills. Use it as a framework for creating learning activities such as simulation scenarios, writing unfolding case studies, and developing test items.
Read More
---
CLICK ON THE IMAGES BELOW TO OPEN IN A LARGER SIZE