Engage Mental Health
Engage Mental Health takes all the learning benefits and interactive features of ATI's leading Engage Series and puts them to work for Mental Health content. Beyond the variety of interwoven activities, multimedia, unfolding case studies, embedded virtual applications with branching logic, quizzes, podcasts, annotation capabilities, many ready-to-use educator resources, and more, Engage Mental Health also: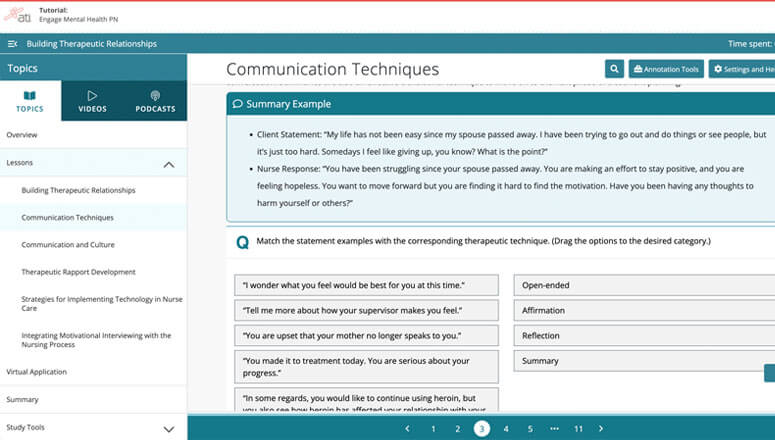 Develops understanding of and promotes development of therapeutic communication skills.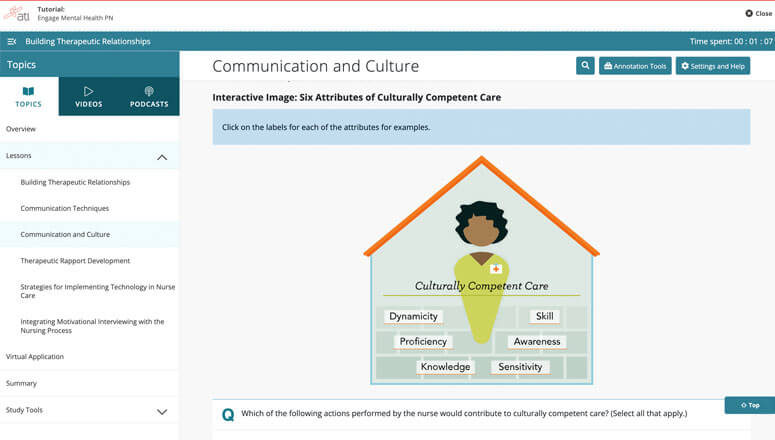 Helps students identify and recognize underlying biases and fears.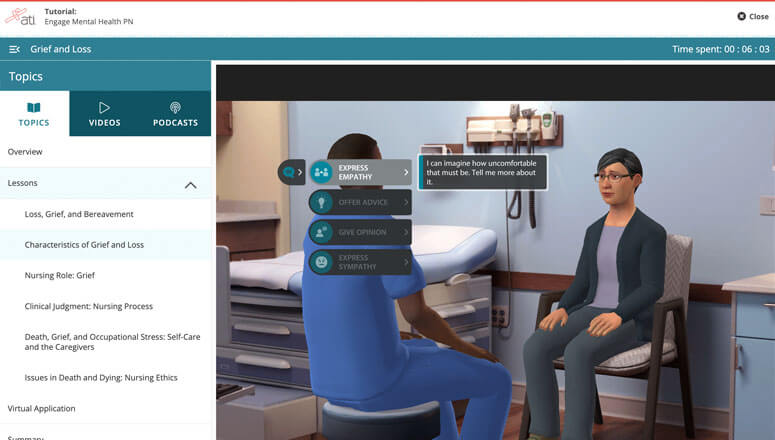 Prepares students for clinicals and professional practice by exposing them to realistic mental health clients and scenarios with embedded virtual application simulations as well as real-life examples shared throughout interwoven nurse-educator-led podcasts.
22 Modules:
Content designed to replace a textbook means our extensive team of expert nurse educators and other teams of reviewers have ensured all the right evidence-based, need-to-know information for today's nurse generalist is included. Engage Mental Health content is even aligned to the latest DSM 5 standards. We're focused on delivering the most up-to-date industry standards with ongoing annual reviews to ensure the latest evidence-based practices are used – a challenge for the nature of traditional printed textbooks. Plus, easily see where content addresses AACN's latest Essentials with student call-outs as they learn. Explore the full list of ready-to-use educator resources and reporting capabilities at atitesting.com.
Unit 1: Foundations of Mental Health Nursing
Foundational Concepts of Mental Health Nursing
Client and Mental Health Team Member Safety: Legal & Ethical Consideration
Evidence-Based Practice in Mental Health Nursing
Mental Health Theories & Therapies
Continuum of Treatment
Unit 2: Building Nurse-Client Relationships
Building Therapeutic Relationships
Nursing Process
Psychopharmacology
Unit 3: Social, Emotional, and Behavioral Concerns
Physiological and Psychological Responses to Stress
Grief and Loss
Abuse, Aggression, and Violence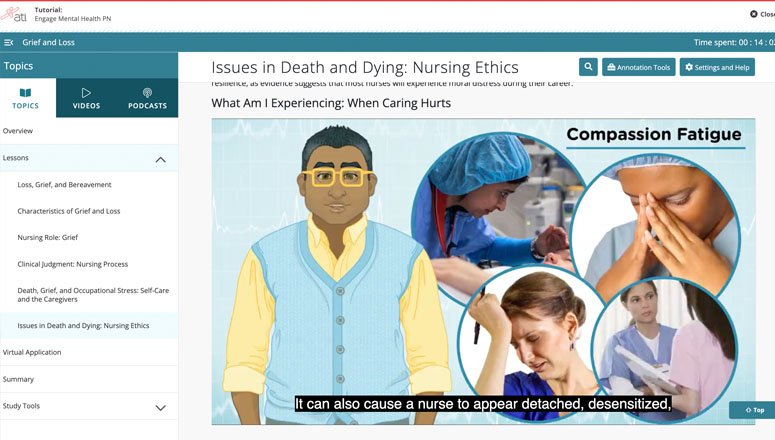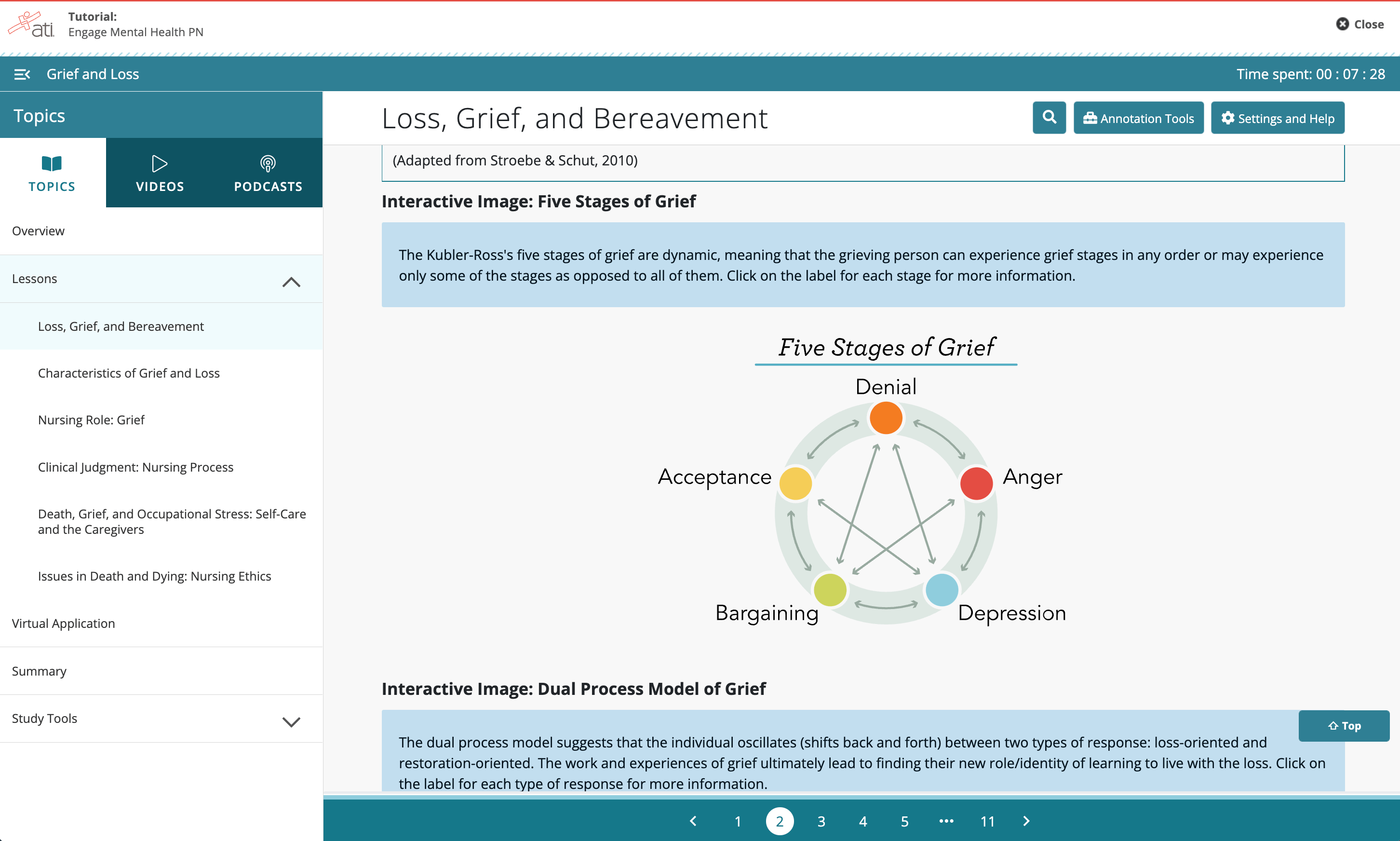 Unit 4: Nursing Practice for Clients with Mental Health Disorders
Anxiety, Obsessive-Compulsive, and Related Disorders
Trauma, Crisis, Disaster, and Related Disorders
Somatic System Trauma and Dissociative Disorders
Personality Disorders
Mood Disorders and Suicide
Schizophrenia Spectrum Disorders and Psychosis
Neurocognitive Disorders
Neurodevelopmental Disorders
Disruptive Behavioral Disorders
Substance-Related and Addiction Disorders
Eating Disorders
CONTACT US
For more information about ATI Engage Series products, contact your Client Executive or complete the form below.