The 8 steps needed to build the Next Generation NCLEX
Oct 1, 2023, 11:55 AM
<45-sec. read> The NCSBN took an analytical look at the NCLEX to determine what changes were necessary to assess student nurses' clinical judgment.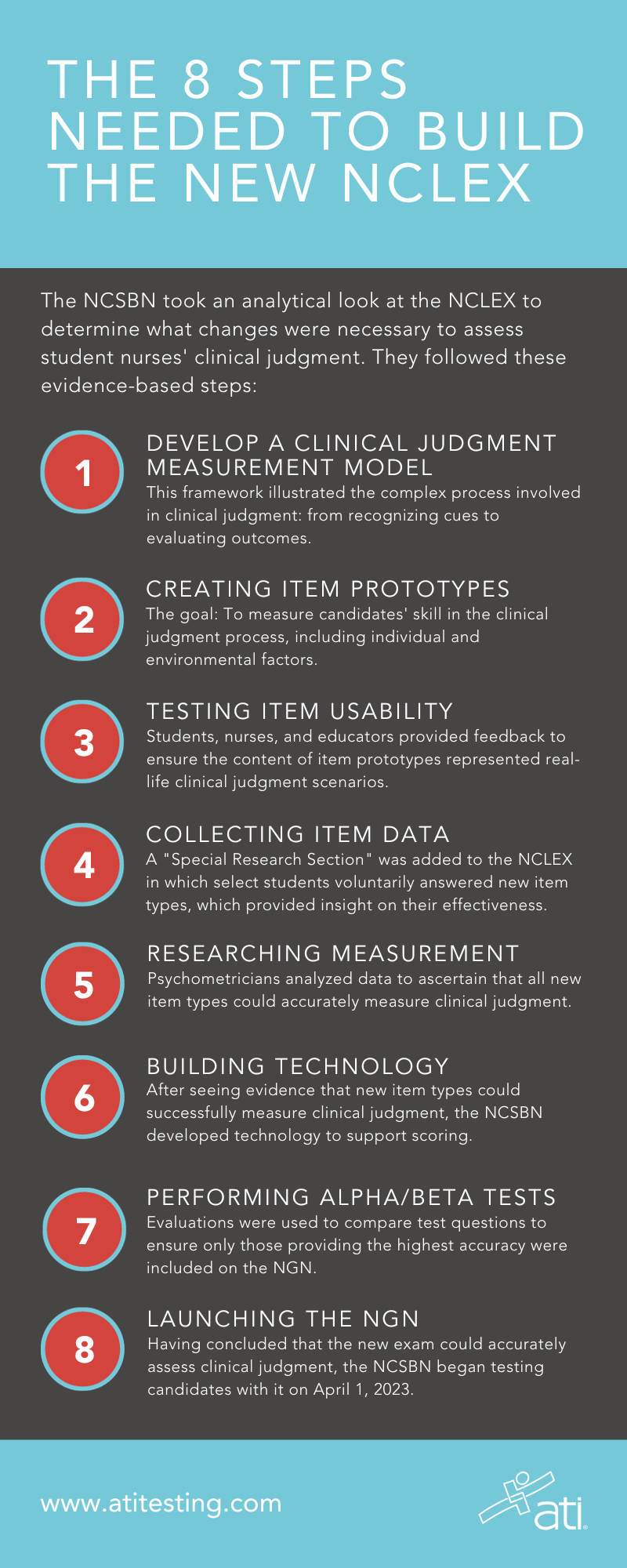 The revolutionary new version of NCLEX — which launched April 1, 2023 — uses a complex mix of item types that require nursing students to prove their clinical reasoning skills. It is designed to ensure novice nurses are prepared to work in real-life situations without putting clients at risk.
How did the NCSBN plan for the Next Generation NCLEX?
NCSBN
's expert team of psychometricians and researchers followed 8 very specific, evidence-based steps:
1) DEVELOP A CLINICAL JUDGMENT MODEL
Over several years, the NCSBN developed a model comprised of 5 interacting layers that illustrated the complex process involved in clinical judgment. The model accounted for the context in which decisions must be made, including both environmental and individual factors.
2) CREATE ITEM PROTOTYPES
Being able to measure candidates' skills in the clinical judgment process required complicated questions compared to the simpler multiple-response items used on the previous version of the exam. The NCSBN, then, created and tested complex item types that used multidimensional scoring and delivered partial credit based on how students answered. The new test can actually penalize candidates for answers that show a lack of clinical judgment skills that can endanger clients' health.
3) TEST ITEM USABILITY
Students, nurses, and educators helped review new NCLEX item types and provided feedback to the NCSBN. Part of their review process focused on ensuring the content of item prototypes represented real-life clinical judgment scenarios that nursing students face after graduation.
4) COLLECT ITEM DATA
During its testing process, the NCSBN added a "Special Research Section" to the NCLEX-RN (and, eventually, to the -PN version) that included new item types. Upon completion of their licensure exam, select students had the chance to voluntarily answer the questions. Their responses did not impact their NCLEX scores but did provide impactful insight on whether the questions provided meaningful information.
5) RESEARCH MEASUREMENT
Psychometricians received hundreds of thousands of results from the "Special Research Section." Ongoing analysis of the data helped them ascertain which items accurately measured clinical judgment and nursing competence.
6) BUILD TECHNOLOGY
By about mid-2019, NCSBN had enough information to determine that it should formally move forward with developing the Next Generation NCLEX. At that point, it considered what types of technology would be needed to support the complex item types necessary to test clinical judgment. It then began construction of the new test.
7) PERFORM ALPHA/BETA TESTS
As with any rigorous examination, multiple evaluations were necessary to compare test questions. NCSBN scrutinized every item type to ensure only those that provided the highest accuracy in measurement results were included.
8) LAUNCH THE NEW NCLEX
NCSBN underwent an operational phase of testing and building item types that lasted about 4 years. It then set a launch date, and the Next Generation NCLEX officially began use on April 1, 2023.