NURSES MONTH WEEK 4 FOCUS: INCREASED COMMUNITY ENGAGEMENT
May 21, 2021, 16:50 PM
<4-min. read> Nurses' invaluable contributions to the community deserve greater recognition — an appropriate theme for Week 4 of Nurses Month.
---
Encourage students to consider public health in your Week 4 celebration of Nurses Month
By Carrie B. Elkins, DHSc, MSN, RN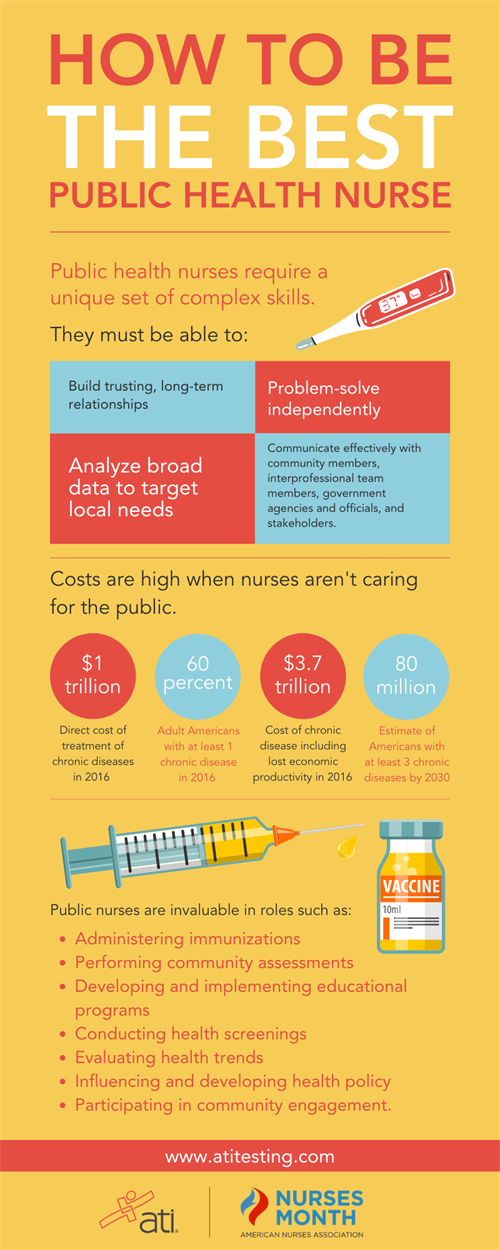 One of the best aspects of being a nurse is caring — not just providing care. Nurses emotionally care! They care about clients, about families, about communities, and about populations. And as new norms are being established due to the COVID-19 public health crisis, we are seeing renewed interest in community and public health nursing, which I find invigorating.
---
GIVE YOURSELF A SPECIAL GIFT DURING NURSES MONTH
---
I've spent most of my nursing career working outside the bricks and mortar of hospitals or healthcare facilities, and I find caring for others — where they work, live, and socialize — very rewarding. However, I've learned that many view public health nursing as passive compared to other nursing specialties. In actuality, the public health nurse requires a unique set of complex skills.
Public and community health nurses must be able to:
Build trusting, long-term relationships
Problem-solve independently
Analyze broad data to target local needs
Communicate effectively with community members, interprofessional team members, government agencies and officials, and stakeholders.
The fact is public and community health nurses save lives — perhaps by the millions.
THE COSTS WHEN NURSES AREN'T CARING FOR THE PUBLIC
We've all heard the famous words penned by Benjamin Franklin: "An ounce of prevention is worth a pound of cure." If this was true in 1735, what might these numbers look like today? According to the Centers of Disease Control and Prevention (CDC):
In 2016, treatment of chronic diseases had a direct cost of more than $1 trillion.
The total cost of chronic diseases in 2016, including lost economic productivity, was $3.7 trillion.
In 2014, 60% of adult Americans had at least one chronic disease, and 42% had multiple chronic diseases.
By 2030, it is estimated that more than 80 million Americans will have at least 3 chronic diseases.
---
DOWNLOAD THE INFOGRAPHIC ABOVE AS A HANDY REFERENCE
---
According to the American Public Health Association:
75% of health spending in America is on preventable chronic diseases.
Only 3 cents of each $1 in health spending goes toward prevention efforts.
For each $1 spent on prevention, $5.60 in health spending is saved.
MAKING A SIGNIFICANT IMPACT IN CARING FOR COMMUNITIES
While nurses in the community may not experience the same adrenaline rush as nurses providing life-saving care in an emergency department, they care by holding the hand of a client who is actively dying, teaching infant care to parents with no support system, assisting a client experiencing intimate partner violence to develop a safety plan, and more.
Beyond the previous examples, public health nurses are invaluable in numerous roles, including:
Performing community assessments
Developing and implementing educational programs
Conducting health screenings
Administering immunizations
Evaluating health trends
Influencing and developing health policy
Participating in community engagement.
Of these, community engagement is one of the most essential elements of successful public health programs.
DEFINING THE IMPORTANCE OF COMMUNITY ENGAGEMENT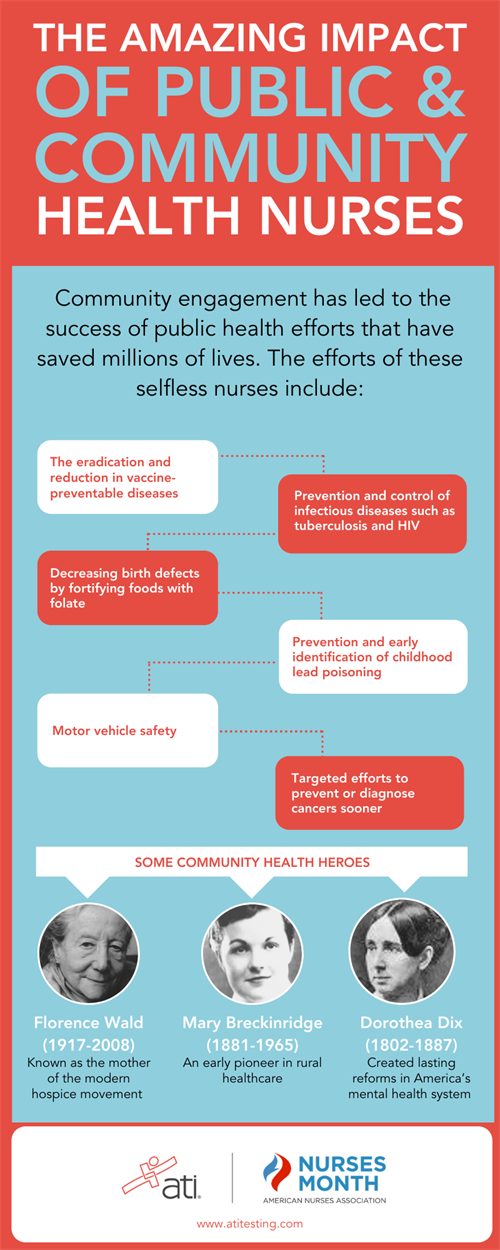 What is community engagement? Community engagement is the implementation of strategies to improve the well-being of individuals, groups, or populations by developing trust, building relationships, and improving communication with community members. To positively influence health, community engagement requires intentional interactions between community members, government officials and agencies, and local organizations. Success also requires the consideration and assurance of many core values, such as inclusivity, diversity, empowerment, social justice, veracity, equity, competence, dignity, and service, among others.
PRINCIPLES OF COMMUNITY ENGAGEMENT
The CDC describes 9 community engagement principles and divides the principles into 3 categories.
Category 1: Principles to establish prior to community engagement:
Ensure the targeted group and engagement goals are clearly defined.
Get to know and understand the community.
Category 2: Principles necessary for community engagement to occur:
Interact with the community to establish rapport and gain trust.
Recognize and respect the community's right to collective self-determination.
Category 3: Principles required for community engagement to be successful:
Become a community partner.
Respect the community's diversity.
Leverage and enhance local assets and resources.
Remain flexible and embrace changing needs within the community.
Maintain commitment to long-term collaboration efforts.

While you may not often see a public health nurse resuscitating a client by administering lifesaving medications or performing CPR, they do revive and improve communities by fostering mutual respect, demonstrating a spirit of humility, ensuring equity and inclusivity, and embracing change — all essential elements of community engagement.
---
DOWNLOAD THE INFOGRAPHIC AT RIGHT AS A HANDY REFERENCE
---
And, it is through community engagement that past public health efforts were successful, and likely millions or more lives saved. These efforts include:
The eradication and reduction in vaccine-preventable diseases
Prevention and control of infectious diseases such as tuberculosis and HIV
Decreasing birth defects by fortifying foods with folate
Prevention and early identification of childhood lead poisoning
Motor vehicle safety
Targeted efforts to prevent or diagnose cancers sooner.
As COVID-19 has proven to us all, there is always more work to do. But, undoubtedly, public health nurses are up to the challenge, and using community engagement strategies effectively will help to ensure public health successes that mirror those of the past.
If you have students considering a future in public health, share this article to help them understand the significant impact they can make.
---
IN CELEBRATION OF NURSES MONTH, ATI IS PROUD TO SPONSOR KEYNOTE SPEAKER JOHN O'LEARY IN A SPECIAL EVENT
You can view an encore presentation of John's keynote — which originally took place Wednesday, May 19 — in ATI Academy through July 31. Simply search the Content Library for "ATI Talk."


---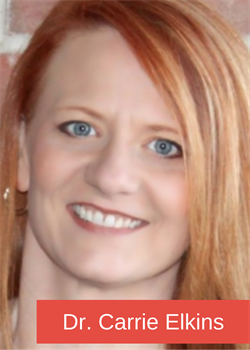 Author: Carrie B. Elkins, DHSc, MSN, RN is a Manager, Nurse Educator, with Ascend Learning. She has been a registered nurse for 25 years and was a nurse educator for 15 years in traditional BSN, and web-based RN-to-BSN, and MSN programs. For more than 10 years, she has led a team of Nursing Education Specialists who focus on content development, item writing, simulation creation, and alignment of products with NCLEX-RN and -PN test plans. Working in community and public health settings throughout her nursing career, she served in various disaster-response roles, assisted with the development of disaster-preparedness response plans with local-level emergency-management agencies, and provided instruction through the Center for Domestic Preparedness in Anniston, Ala. Dr. Elkins has been an invited presenter on public health and nursing education-related concepts locally, nationally, and internationally including topics such as writing NCLEX-style multiple-choice items, writing alternate item formats, Next Generation NCLEX, cultural respect in nursing, environmental and health implications of the methamphetamine crisis in rural areas, rural-health preparedness, integration of public health content in nursing curricula, disaster-preparedness inclusion in public health nursing courses, hands-on disaster experiences for public and community health nursing students, and creating tabletop disaster exercises for public health nursing students.


---
REFERENCES
---