Week 3's topic of Nurses Month will make you a better educator
May 17, 2021, 07:00 AM
<2-min. read> Week 3 of Nurses Month focuses on professional development — an aspect of self-care you may have put aside when focusing on other people.
---
A mentor's advice: You need to know the vital importance of professional development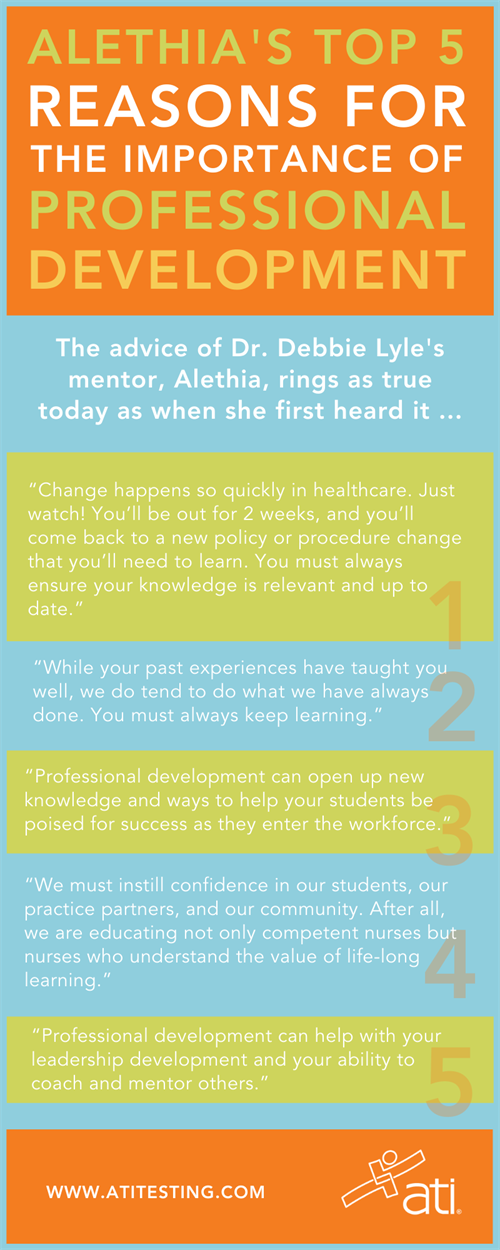 By Debbie Lyles, PhD, RN, CNE
As a new nurse educator, one of my fondest recollections is that of my mentor helping me understand the importance of professional development. I was, however, a bit surprised. I thought, "Wow! I just 'checked the box' of finishing graduate school! Could she just give me a little time to learn my job and stay 1 day ahead of my students?"

I wasn't ready to hear about professional development yet!
---
GIVE YOURSELF A SPECIAL GIFT DURING NURSES MONTH
---
Gentle, but insistent, she didn't give up. Her constant message: Professional development is of vital importance.
LISTENING TO THE VOICE OF WISDOM
I can hear Alethia in my ear now …
"Change happens so quickly in healthcare. Just watch! You'll be out of clinical for 2 weeks over winter break, and you'll come back to a new policy or procedure change that you'll need to learn. You must always ensure your knowledge is relevant and up to date." (Winter break had been coming up when she told me this. She always had the perfect example to get my attention.)
"While your past experiences have taught you well, we do tend to do what we have always done. You must always keep learning."
"Professional development can open up new knowledge and ways to help your students be poised for success as they enter the workforce."
"We must instill confidence in our students, our practice partners, and our community. After all, we are educating not only competent nurses but nurses who understand the value of life-long learning."
"Professional development can help with your leadership development and your ability to coach and mentor others." (When I heard that one, I remember thinking, "Sure! Like I'm going to be leading a team any time soon! Just help me write these test items, please!")
PROFESSIONAL DEVELOPMENT COVERS A RANGE OF AREAS
Some of the best professional development advice she gave me was encouraging me to become involved with our accrediting agency as a site visitor. She knew I loved curriculum and program evaluation, and it was a unique way to learn about the many facets of accreditation.


---
DOWNLOAD THE INFOGRAPHIC ABOVE AS A HANDY REFERENCE
---
Although learning about accreditation may not fit the typical professional development category, it certainly opened my eyes in multiple ways:
How other schools approach program evaluation
The similar struggles among schools of nursing education
The value of ongoing evaluation
The importance of collegiality (an ongoing professional development lesson).
FIND YOUR FAVORITE PLATFORM & NEVER STOP LEARNING
Whatever your preferred method of professional development — podcasts, webinars, conferences, nursing journals, or involvement in professional organizations — I encourage you to consider my mentor's advice and never lose focus on the vital importance of professional development!

P.S. Alethia, I know if you were still teaching, you would be first in line for an "on-the-go" podcast!
---
IN CELEBRATION OF NURSES MONTH, ATI IS PROUD TO SPONSOR KEYNOTE SPEAKER JOHN O'LEARY IN A SPECIAL EVENT ON WEDNESDAY, MAY 19 (NOON-1 P.M. CT)
Watch John's videos below for previews of what's in store this week as he helps us celebrate Nurses Month. Then register for this limited-attendance event.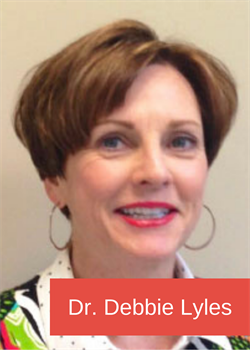 Author: Debbie Lyles, PhD, MN, RN, CNE, is the Director of Consulting at ATI. She has been a registered nurse for more than 35 years with 28 years of post-secondary nursing education experience, including RN-to-BSN and Associate Degree Nursing. Dr. Lyles was graduated from the Medical University of South Carolina with a bachelor of science degree in nursing. She has worked as a clinical nurse in pediatric critical care, pediatric oncology, and home health. She earned a master's degree in nursing from the University of South Carolina and a PhD in post-secondary and adult education from Capella University. Prior to joining ATI, she served in various senior administrative positions, faculty positions, and advisory boards at the state and local level. Her areas of expertise include curriculum development, accreditation, curriculum implementation, student policies, and program evaluation. Active in the accreditation process, she has served as a site visitor, site visitor chair, review panel member, and appeal panel member.
---
What is your favorite source for professional development? Share it in the comments below.
---