A Simplified Version of the Next Generation NCLEX Plan
Oct 17, 2018, 11:56 AM
<1.5-min read> NCSBN's groundbreaking path toward assessing clinical judgment in student nurses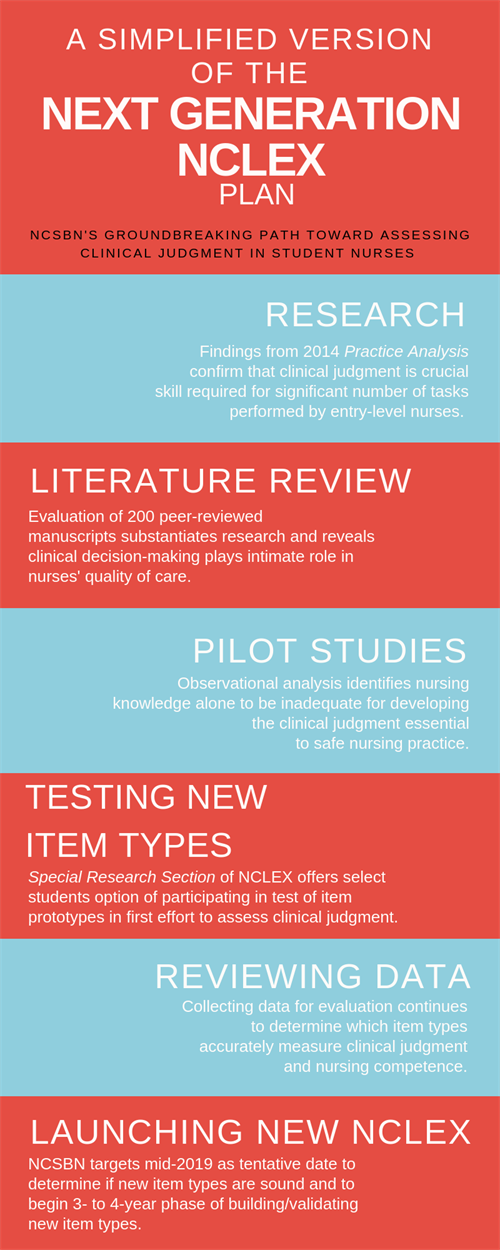 Research
Findings from 2013-14
Practice Analysis
confirm that clinical judgment is a crucial skill required for significant number of tasks performed by entry-level nurses.
Literature Review
Evaluation of 200 peer-reviewed manuscripts substantiates research and reveals clinical decision-making plays an intimate role in nurses' quality of care.
Pilot Studies
Observational analysis identifies nursing knowledge alone to be inadequate for developing the clinical judgment essential to safe nursing practice.
Testing new item types
Special Research Section
of NCLEX offers select students the option of participating in a test of item prototypes in first effort to assess clinical judgment.
Reviewing data
Collected data begins evaluation to determine which item types accurately measure clinical judgment and nursing competence.
Launching new NCLEX
Assuming NCSBN makes a decision to proceed in mid-2019, it anticipates that 2022-2023 is the earliest timeframe for release of the Next Generation NCLEX-RN.
Source:
National Council of State Boards of Nursing (NCSBN)
---
Provide feedback about the Next Generation NCLEX to the National Council of the State Boards of Nursing (NCSBN) at:
Mail: 111 East Wacker Drive, Suite 2900, Chicago, IL 60601-4277
Phone: 312.525.3600
International phone: 011 1 312 525 3600
Fax: 312.279.1032
Email:
[email protected]
---