10 WAYS A NURSE EDUCATOR CAN CONTRIBUTE TO A CIVIL, PRODUCTIVE LEARNING ENVIRONMENT
Oct 17, 2018, 17:26 PM
<2.5-min. read> Teaching nursing students about civility is a critical step toward fostering healthy work environments and ensuring safe client care. And while striving to achieve that outcome for your protégés' professional careers, you can implement additional tactics to help create a healthy collegiate environment, as well — beginning on the first day of class.
TEACHING CIVILITY FROM A PERSONAL PERSPECTIVE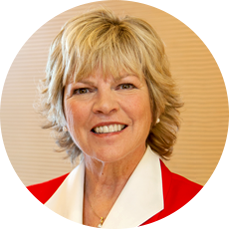 Before students walk in the door, Cynthia M. Clark, PhD, RN, ANEF, FAAN, ATI Strategic Nursing Advisor, hopes you'll begin thinking of how to address the topic of civility.
Her goal is that you integrate civility through all aspects of your curriculum, your way of teaching and your interactions with faculty and students. Her extensive research on the topic has taught Dr. Clark how impactful such efforts can be.
In fact, she recently published a paper on the subject: "An Evidence-Based Approach to Integrate Civility, Professionalism, and Ethical Practice Into Nursing Curricula" (published in the May/June 2017 issue of Nurse Educator).
We asked her to summarize some of the concepts from that research to help you identify specific steps you can take in — and out of — your classroom. She gave us her top 10 — in no particular order.
TOP 10 TIPS FOR INTEGRATING CIVILITY
1) BE A POSITIVE ROLE MODEL
Reinforce the American Nurses Association (ANA) Code of Ethics for Nurses with Interpretive Statements (2015), ANA Nursing: Scope and Standards of Practice (2015), and relevant civility content into classes, courses, and nursing curricula.
2) BE INTENTIONAL IN TEACHING CIVILITY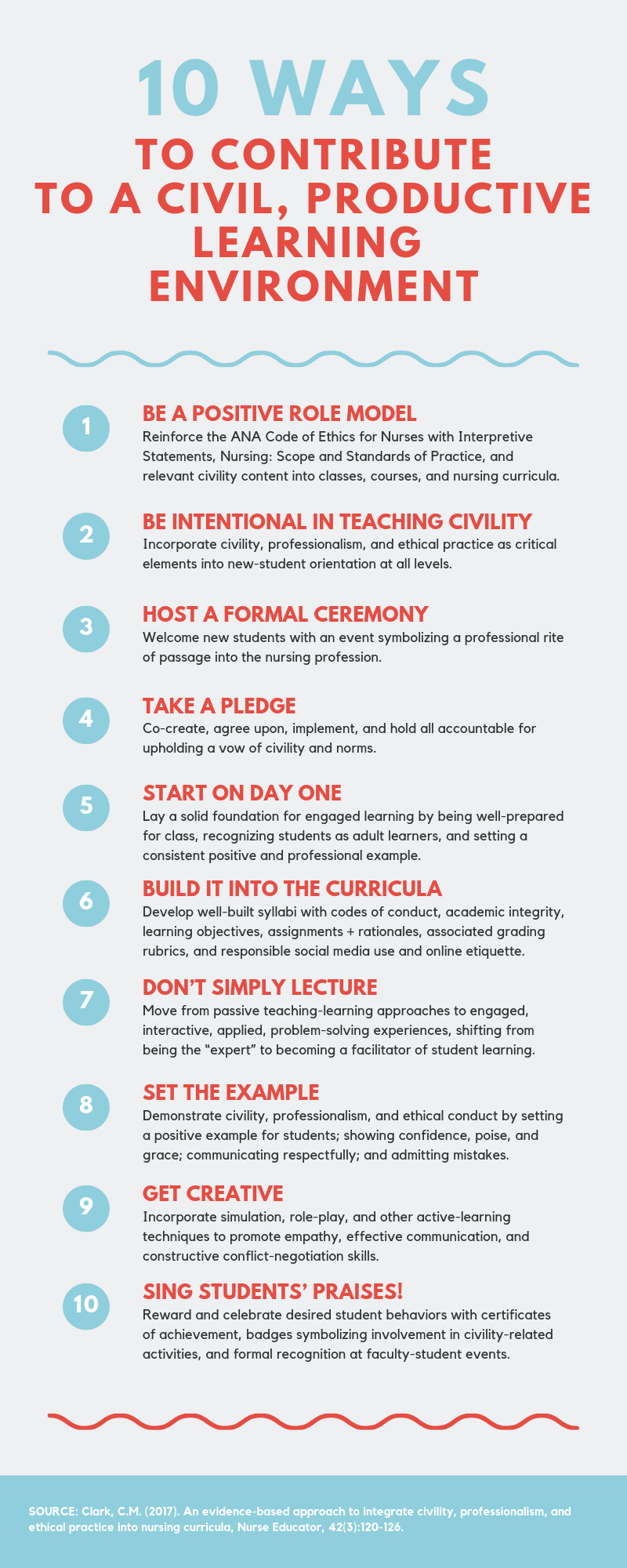 Incorporate civility, professionalism, and ethical practice as critical elements for nursing practice into new-student orientation at both the institutional and program levels.
3) HOST A FORMAL CEREMONY
Upon entry into the nursing program, welcome new students with an event that symbolizes a professional rite of passage into the nursing profession. A ceremony also reinforces a commitment to humanistic, patient-centered care.
4) TAKE A PLEDGE
Co-create, agree upon, implement, and hold yourself and others accountable for upholding a vow that supports civility and associated classroom and clinical norms.
5) START ON DAY ONE
Invest sufficient time and resources during the first day of class — and consistently reinforce thereafter — to lay a solid foundation for an engaged learning environment. This includes being well-prepared for class, recognizing students as adult learners, and setting a consistent positive and professional example.
6) BUILD IT INTO THE CURRICULA
Develop and utilize well-built, clearly designed syllabi that include codes of conduct, academic integrity, learning objectives, assignments with rationales, and associated grading rubrics. Include discussion about the responsible use of social media and online etiquette.
7) DON'T SIMPLY LECTURE
Implement active-learning strategies that move from a more passive teaching-learning approach to a more engaged, interactive, applied, problem-solving experience. Make an intentional shift from being the "expert" to becoming a facilitator of student learning.
8) SET THE EXAMPLE
Demonstrate civility, professionalism, and ethical conduct by setting a positive example for students. Positive role models show confidence, poise, and grace. They communicate respectfully and are willing to admit mistakes.
9) GET CREATIVE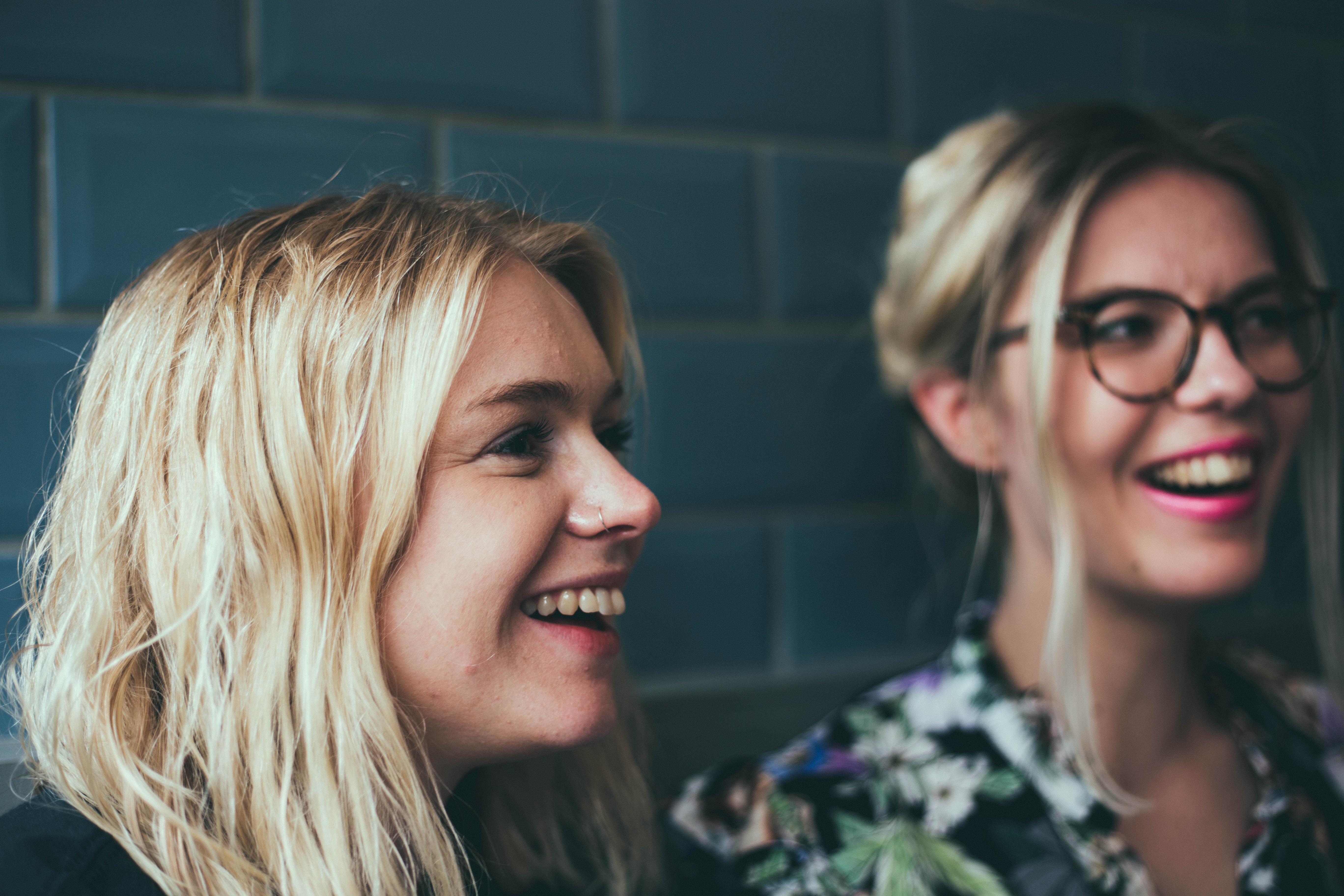 Integrate concepts of civility, professionalism, ethical practice, and patient safety into courses using active-learning strategies. Incorporate simulation, role-play, and other active-learning techniques to promote empathy, effective communication, and constructive conflict-negotiation skills.
10) SING STUDENTS' PRAISES!
Be sure to reward and celebrate desired behaviors demonstrated by students. Suggestions include certificates of achievement, badges that symbolize involvement in civility-related activities, and formal recognition at faculty-student events.
---
Need additional resources to help teach students about fostering healthy work environments and civility? ATI's Civility Mentor — created under Dr. Clark's leadership — uses a variety of evidence-based strategies and active-learning approaches to help students learn essential skills to promote a healthier, safer healthcare environment
Learn more about Civility Mentor.
---
---
Read more articles about civility: