What are the signs that will help you spot nurse suicide risk?
May 23, 2022, 15:16 PM
<8-min. read> Nurse suicide risk can be averted when you know what to look for. Evidence-based research points toward the most obvious signs.
---
Students & peers are teetering toward suicide risk when you see these factors
Joshua Paredes, RN-BC, a nurse at the University of California, San Francisco Medical Center, said he thought he knew all the signs of suicide. After all, he'd been taught them in nursing school in Oklahoma. But when his roommate and friend Michael O'Dell, a nurse at Stanford Hospital (Stanford, Calif.), took his own life, Paredes was in shock.
"The only sign that I noticed with Michael was that he was sleeping a lot more. But I attributed that to working so many hours a week," he said.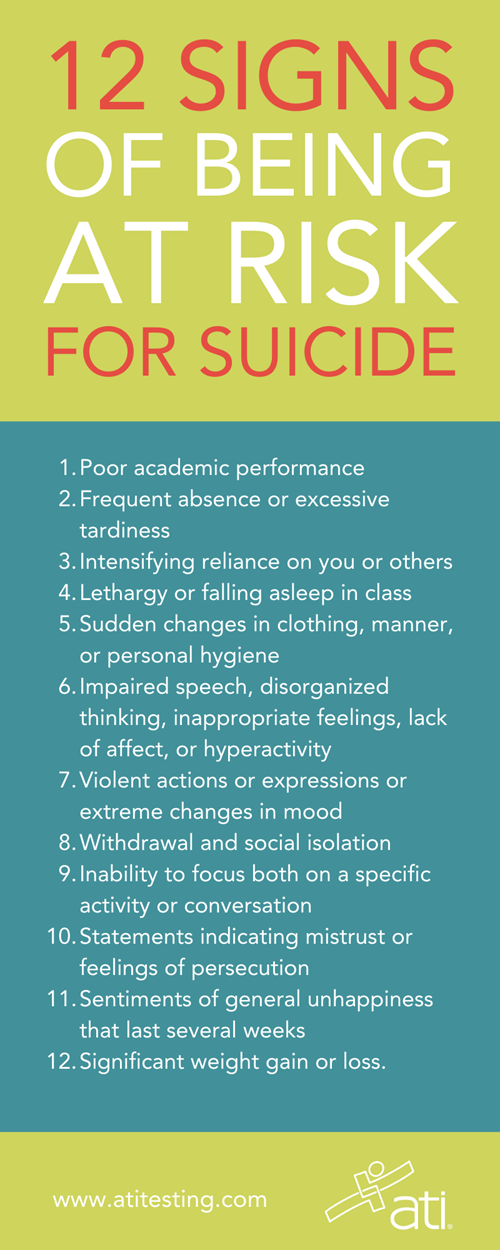 ---
If you or someone you know may be considering suicide, contact the National Suicide Prevention Lifeline at 1-800-273-8255 or the Crisis Text Line by texting HOME to 741741.
---
In retrospect, he now recognizes that Michael's long bouts of sleeping were a sign of depression, a risk factor for suicidal ideation. In fact, a special section of the American Nurses Association website that is focused on suicide says, "Suicidal thoughts and action are generally superseded by feelings of depression and anxiety."
Worsening the problem is that the nature of the job puts nurses at higher risk for depression.
A report in the American Journal of Nursing (November 2021) cited a study in which 5.5% of respondents reported having suicidal ideation within the past year. A more worrying aspect of this study indicated that, while most nurses (84.2%) showed a willingness to seek professional help if they had a serious emotional problem, those experiencing suicidal ideation were not. Specifically, the report showed that only 72.6% of nurses with suicidal ideation would "probably" or "definitely" seek help.
How, then, can we aid the more than 25% who are keeping their suicidal thoughts hidden? By learning to recognize the signs — in both peers and students — and sharing that knowledge with others.
---
DOWNLOAD THE INFOGRAPHIC AT RIGHT AS A HANDY REFERENCE
---
THE MOST OBVIOUS SIGN OF SUICIDE RISK
If you encounter someone — a colleague, student, or family member — who has talked about suicide, you should be particularly concerned.
A 2021 article in MedPage Today cited facts from the National Comorbidity Survey, the first nationally representative mental health survey in the United States to use "a fully structured research diagnostic interview to assess the prevalences and correlates of DSM-III-R disorders."
That study identified that "nearly 1 in 3 people who report suicidal thoughts later develop a plan for suicide, and close to three-fourths of those with a plan will attempt suicide."
Other obvious signs include actively looking for a way to kill oneself (such as obtaining a gun or other means or searching online for information) and talking about feeling hopeless or having no reason to live.
If you encounter someone exhibiting such risk factors, you should take immediate steps:
If the danger of self-harm seems imminent, call 9-1-1.
Stay with the person (or have another caring person wait with the individual in a private, secure place) until you can get help.
Contact your Employee Assistance Program (EAP), HR Department, or the National Suicide Prevention Lifeline (see above) for guidance.
Continue to stay in contact with the person and pay attention to how he or she is doing.
Admittedly, such encounters are likely to be rare, but being prepared is critical. In most cases, the clues that someone is at risk will be more subtle.
NURSE PEERS' SIGNS OF SUICIDE RISK
Educators certainly aren't immune to having thoughts of suicide. The Suicide Prevention Resource Center (SPRC) details some factors that will help you know which colleagues are at greatest risk. They include:
Prior suicide attempt(s)
Mood and anxiety disorders, i.e. depression and post-traumatic stress disorder (PTSD)
Access to a means to kill oneself, i.e. lethal means
Alcohol and drug abuse.
That last risk factor is one in which Paredes says he's noticed an increase.
"[It's] another thing we don't want to talk about as nurses that we have to talk about," he explained. "In my own group of friends, there's a lot more drinking and there's a lot more substance use going on that that was not occurring prior to the pandemic. I think we're dealing with trauma in a way that's maladaptive. And we have to switch that out and recognize it doesn't help."

(Paredes, in fact, has proactively taken steps to help nurses address their stress so others don't take the path his friend Michael did in ending his life. Paredes started an organization called Don't Clock Out where peers provide support and guidance.)

The SPRC's fact sheet notes that suicide risk is usually greater among people with more than one risk factor.
It warns that, for individuals who are already at risk, "a 'triggering' event causing shame or despair may make them more likely to attempt suicide. These events may include relationship problems or breakups, problems at work, financial hardships, legal difficulties, and worsening health. Even though most people with risk factors will not attempt suicide, they should be evaluated by a professional."
STUDENT NURSES' RISKS OF SUICIDE
On its blog, ATI sister company Kognito published an article, "Students in distress: How to spot warning signs." The article noted, "Educators are uniquely positioned to detect the warning signs that a student might be in distress. Research has proven that early detection is critical, making it important for teachers to understand what to look for and how to respond when they think a student may be struggling."
Early detection is especially important now because the number of students at risk has increased in recent years.
The Kognito article stated, "Up to 1 in 4 youth are experiencing depressive or anxiety symptoms, and youth psychiatric visits to emergency departments for depression, anxiety, and behavioral challenges increased by 28% in just 4 years, according to a recent U.S. Surgeon General Advisory."
---
DOWNLOAD THE INFOGRAPHIC AT RIGHT AS A HANDY REFERENCE
---
As with colleagues, some students are at higher risk than others. So, pay close attention to whether a student:
Uses alcohol or other substances
Has recently lost a loved one or friend
Is part of a marginalized group
Has been abused, neglected or exposed to other adverse childhood experiences (ACEs), such as community violence
Is socioeconomically disadvantaged (living in poverty)
Has survived a disaster (including the pandemic)
Has been forced to live in temporary housing situations, has lost personal property, and/or whose parents have been unemployed.
With suicide the third-leading cause of death in college students, it's especially important to be able to spot those at risk — a large group considering that up to 44% of college students have reported symptoms of depression and anxiety.
The good news is that members of Generation Z — the youngest generation of your students (born between 1995 and 2010) — are more likely to practice self-care, including seeking out therapy or mental health counseling than their older peers.
Nevertheless, only 45% of this age group reports having "very good" or "excellent" mental health, according to the American Psychological Association. So, keeping an eye on this group is particularly important.
According to the Loyola University of Maryland Counseling Center and the St. Mary's College of Maryland Wellness Center, you should look for:
Poor academic performance (particularly of students who had previously excelled)
Frequent absence from class or campus for prolonged periods or excessive tardiness
Intensifying reliance on you (unwarranted requests for office appointments, hanging around after class or your office) or other people.
Lethargy or falling asleep in class
Sudden differences in clothing, manner, or personal hygiene
Impaired speech or other evidence a student isn't in touch with reality, such as disorganized thinking and speech, inappropriate feelings in a particular situation, lack of affect, or hyperactivity
Violent actions or expressions or extreme changes in mood
Withdrawal and social isolation
Inability to focus both on a specific activity or conversation
Statements indicating mistrust or feelings of persecution
Sentiments of general unhappiness that last several weeks
Significant weight gain or loss.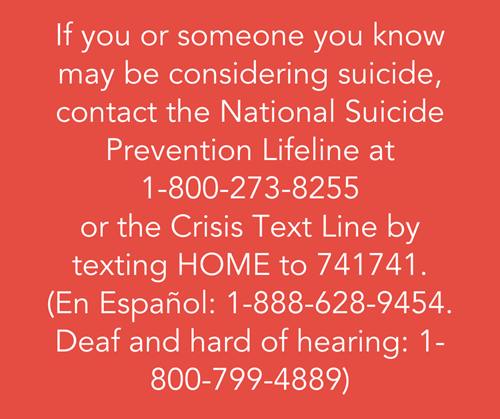 MENTAL HEALTH DISTRESS IN THE ONLINE CLASSROOM
Even if you aren't meeting face to face, you can spot warning signs of distress among virtual students, too. Many symptoms are similar to those you'd see in the regular classroom. Look for:
Poor attendance
Decreased participation in class activities or discussions
Failure to complete assignments
Repeatedly reporting being ill
Adverse family relationships seen on camera
Zoning out or otherwise being mentally absent.
WHAT YOU CAN DO WHEN YOU ENCOUNTER RISK FACTORS
Whoever the individual is showing signs of suicide ideation or risk, make sure you reach out. Some specific talking points include:
Asking how the person is doing.
Listening without judgment.
Mentioning that you've noticed changes in the person's behavior and expressing concern about the individual's emotional well-being.
Suggesting the person talk with someone in the EAP, HR Department, or another mental health professional. It's especially helpful to offer to arrange an appointment and accompany the person when the time comes.
Of course, as mentioned earlier, continuing to show concern is important even after the individual gets professional help. Make sure you stay in touch and pay attention to how that person is doing.
If you want to get ahead of potential problems, you can implement the Healer Education Assessment and Referral (HEAR) program. Launched at the University of California – San Diego (UCSD) School of Medicine in 2009, this effort identified physicians and medical students at risk of suicide. It has since been proven to identify nurses experiencing suicidality, as well as providing support and referral resources. (Read more about the HEAR program in an article on the blog of our sister company, APEA. And for continuing education opportunities focused on suicide, visit our sister company, Nursing CE.)
---
IN RECOGNITION OF MAY AS MENTAL HEALTH AWARENESS MONTH, ATI IS PUBLISHING A SERIES OF ARTICLES AIMED AT NURSES' MENTAL HEALTH. READ MORE AT:
---
HAVE YOU SEEN SIGNS OF NURSE SUICIDE RISK? SHARE WHAT STEPS YOU TOOK IN THE COMMENTS BELOW.
---