THE NURSE EDUCATOR BUYER'S GUIDE: HOW TO CHOOSE A SOLUTION
Oct 29, 2021, 18:03 PM
<3.75-min. read> Your nursing program is ready for a new supplier of nursing education solutions. Choices abound. So, how do you compare them?
---
4 KEY COMPARISON POINTS TO SELECT THE PERFECT PARTNER FOR YOUR NURSING PROGRAM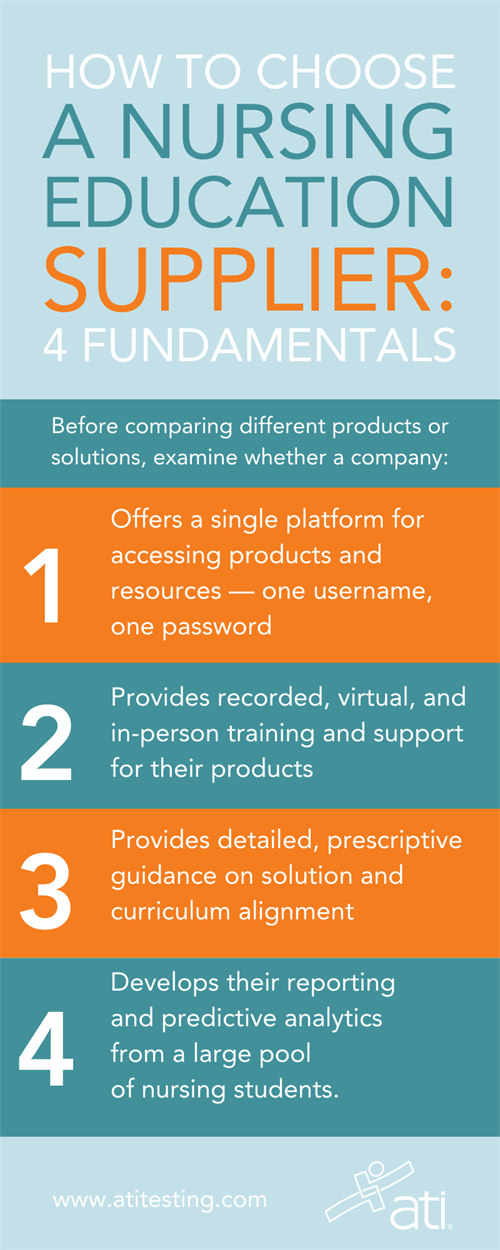 How do you choose a partner for your nursing program? On the surface, nursing education companies can seem similar. But when you assess them on the criteria that mean the most to your program? That's when you can more easily identify which company offers solutions that will fulfill your needs and which ones lack the resources you require.
---
LEARN MORE ABOUT ATI SOLUTIONS
---
While ATI takes pride in building and delivering solutions that are the most comprehensive in nursing education, we know you are interested in all the available options. To help you compare other company's products to ours, then, we've created this checklist. Review it to determine which company offers the depth of quality and excellence of solutions your program needs so you're confident in the partner you choose.
THE FUNDAMENTALS
Before comparing different products or solutions, examine whether your partner:
---
DOWNLOAD THE INFOGRAPHIC AT RIGHT AS A HANDY REFERENCE
---
IN-DEPTH REVIEW
For a more in-depth comparison, use the check list below to thoroughly review another company's offerings to ATI's solutions to ensure your program's needs are fulfilled.
1) CONSIDER STRENGTH OF ASSESSMENT RESOURCES
Do the other company's offerings include:
Criterion-referenced data provide examinees with the ability to compare their proficiency with a performance criterion (e.g., ATI proficiency levels). The criterion-referenced levels show a student's performance directly compared to an established standard.
Norm-referenced data provide examinees and institutions with the ability to compare their score with others taking the exam nationwide (e.g., a mean and percentile rank). Using this data, faculty can assess how their students stack up against other cohorts across the nation.
WCAG 2.1 is a standard for web content accessibility for those with visual, auditory, and cognitive disabilities.

2) CONSIDER TOOLS FOR FACULTY DEVELOPMENT
Do the other company's offerings include:
Look for expertise in:
Look for tools to manage your:
---
DOWNLOAD THE INFOGRAPHIC AT RIGHT AS A HANDY REFERENCE
---
3) CONSIDER HOW TO ASSESS STUDENTS' NCLEX READINESS
Do the other company's offerings include:

4) CONSIDER HOW TO DEVELOP PRACTICE-READY NURSES
Do the other company's offerings include:
---
DOWNLOAD THE CHECKLIST AT RIGHT AS A HANDY TOOL
---
A lot of experience and expertise are necessary to prepare nursing students for the challenge of the Next Generation NCLEX — and to ensure they are practice-ready upon graduation. Choosing a partner with a team of 300+ master's level and doctorate-prepared educators, plus a team of psychometricians trained to build cognitively complicated assessments, is one part of your decision-making process. Finding a company with those skills and a dedicated support team to answer your questions and provide additional resources takes that company to whole other level.
For answers to your specific questions about choosing a nursing education support partner, call (800) 667-7531or use ATI's live chat feature during office hours.
---