GIVE YOUR VALUABLE, VIRTUAL BEST TO YOUR GEN Z STUDENTS
Jun 28, 2021, 16:51 PM
<1-min. read> Discover ways you can grab Gen Z students' attention and engage them in your lessons with this advice from expert educator Dr. Ann Nebel.
---
THESE 6 TIPS WILL HELP YOU 'PLAY UP' TO STUDENTS' PREFERENCES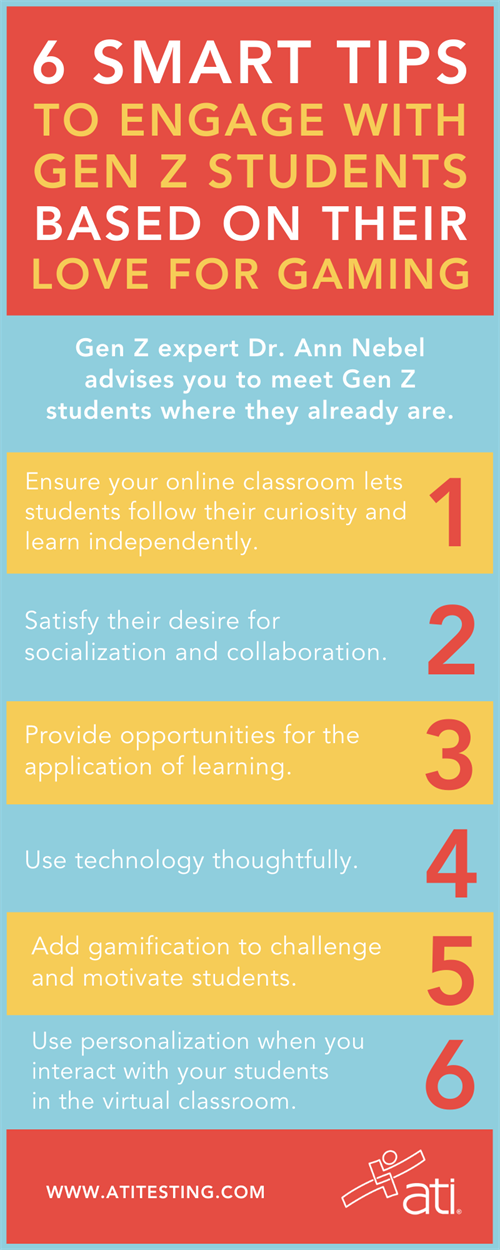 BY ANN NEBEL, EDD, MSN, BSN, ATI MANAGER OF NCLEX SERVICES
Gen Z learners crave problem-solving, and many are avid gamers who have spent hours playing online by the time they reach you. These students expect online learning to be the same: sequences of challenges, instant progress, clear goals, and of course ... rewards!
Give them what they want. To engage Gen Z in the virtual classroom, focus on the following 6 tips:
Ensure your online classroom lets students follow their curiosity and learn independently. Assign independent research as a preparation activity for class.


Satisfy their desire for socialization and collaboration. Use breakout rooms or discussion boards for think-pair-share activities.


Provide opportunities for the application of learning. Incorporate virtual reality-like

video case studies

or

virtual simulation modules

.


Use technology thoughtfully. Aim to satisfy a variety of learning styles and incorporate text, video, audio, and images.


Add gamification to challenge and motivate students. Use a free online game-based learning platform like

Kahoot!

to quiz students.


Use personalization when you interact with your students in the virtual classroom. Provide regular personalized feedback and hold regular virtual office hours. Turn on your camera, and ask students to do the same.
---
DOWNLOAD THE INFOGRAPHIC AT RIGHT AS A HANDY REFERENCE
---
As with generations before, our goal with Gen Z learners is to engage them in the classroom. These students may be like the generations of students before them, but the environment is vastly different and creates new challenges for teachers. Start small by incorporating a new activity with your next cohort. Gen Z students will appreciate that you are open to teaching in new ways.
---
REFERENCES
• Semiller, C. & Grace, M. (2016). Generation Z goes to college. John Wiley & Sons Inc.
---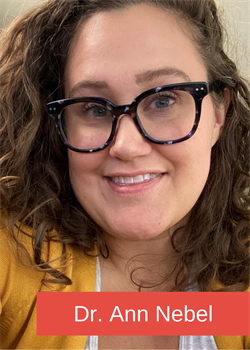 Author: Dr. Ann Nebel received her BSN at Bryan College of Health Sciences, her MSN from Nebraska Wesleyan University, and her Doctor of Education at the University of Nebraska – Lincoln. She has worked with ATI since June 2018. Previously, she was an Assistant Professor of Nursing at Bryan College of Health Sciences for 7 years. Before that, she worked as a nursing instructor at Southeast Community College and as an RN at Bryan Health. Dr. Nebel is passionate about Gen Z (and the University of Nebraska).


---