2 TIPS TO IMPROVE LEARNING OUTCOMES FOR GEN Z NURSING STUDENTS
Mar 1, 2021, 16:32 PM
<2-min. read> Multitasking is another way to describe Gen Z's inability to focus. But combining teaching techniques can keep their attention.
DON'T DISMISS DISTRACTED MINDS. MIX UP TECHNIQUES TO BETTER REACH THEM.
---
BY ANN NEBEL, EDD, MSN, BSN, ATI MANAGER OF NCLEX SERVICES
Are you overwhelming your Generation Z learners with content? The answer is probably yes if you are:
Assigning large reading assignments
Giving lengthy lectures
Using only PowerPoint presentations.
Gen Z learners have grown up accustomed to the instant gratification of on-demand videos, apps, etc. The result? They have difficulty staying on task. You can help them overcome this shortcoming, though. Understanding how the weakness evolved is the first step.
TECHNOLOGY'S IMPACT ON GEN Z BRAINS
Generation Z students commonly spend time — even while studying — with their attention divided among a variety of activities. They listen to music, watch a video, search the Internet, and interact on social media, all while supposedly writing a paper.

They call it multitasking.

Researchers, however, call it an inability to focus.

Internet accessibility is partly to blame. As students have easier access to the world wide web, with handy Wi-Fi and ever-smarter smart phones, their attention span has decreased by half. More specifically, the internet's ability to provide instant gratification may be contributing to the development of attention difficulties.

In fact, some experts believe technology is leading to the rewiring of human brains.

Helping your students focus their attention and lessen their distractions may be key to creating healthy habits that can aid in their scholastic success.
---
DOWNLOAD THE INFOGRAPHIC AT RIGHT AS A HANDY REFERENCE
---
BEST PRACTICES FOR DISTRACTED MINDS
To help your Gen Z students deal with distractions, consider delivering your lessons in small segments. Doing so will keep young-adult scholars engaged, enhance their learning, and aid in retention.
Some specific solutions:
1. Prework it.
Coursework that students must complete before class time is an effective way to stimulate interest and ensure they are prepared. Assign short reading passages that are interspersed with videos, prerecorded mini-lectures, self-paced learning modules, or web-search activities. Together, these activities can strengthen student understanding before a lecture.
2. Create a cycle.
During class, present a short segment of content followed by a small-group activity, such as an unfolding case study. Repeat this cyclical approach throughout the lesson to meet your course objectives.

Gen Z students generally prefer intrapersonal learning where they work independently at their own pace. But they also enjoy working in group settings — a nod to their desire for social learning. This preference can work well for group work that requires them to collaborate verbally, but it is equally effective when they work independently, alongside each other, on the same Google Doc.

Small segments of content through prework assignments, presentations, or small group discussions can assist with maintaining student focus and promote overall student learning outcomes.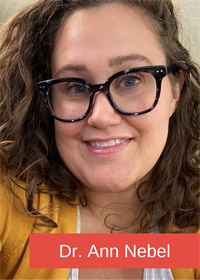 Author: Dr. Ann Nebel received her BSN at Bryan College of Health Sciences, her MSN from Nebraska Wesleyan University, and her Doctor of Education at the University of Nebraska – Lincoln. She has worked with ATI since June 2018. Previously, she was an Assistant Professor of Nursing at Bryan College of Health Sciences for 7 years. Before that, she worked as a nursing instructor at Southeast Community College and as an RN at Bryan Health. Dr. Nebel is passionate about Gen Z (and the University of Nebraska).






---
RESOURCES