NCSBN's Phil Dickison Explains the Vital Need for Improved Clinical Judgment
Feb 23, 2021, 16:43 PM
<1-min. read> In a video interview, we probed for details on the crucial issue of clinical judgment to learn how it became the foundational core of the Next Generation NCLEX.
---
3 VIDEO INTERVIEWS LAY THE FOUNDATION FOR WHY PUBLIC HEALTH IS AT STAKE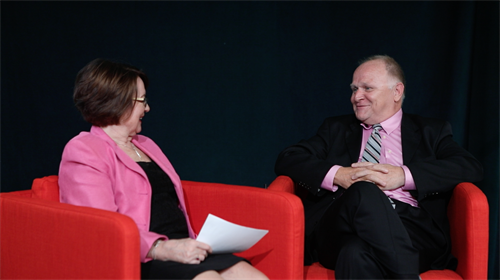 The morning keynote had recently ended, and the assemblage of attendees at the National Nurse Educator Summit had streamed out of the elegant ballroom at Salt Lake City's Grand Hotel. Soon after, Phil Dickison, PhD, RN, NCSBN's Chief Officer of Examinations, strode in. It was mid-April 2018, and while the hotel's resplendent courtyard was awash in spring sunshine, glaring lights were needed to illuminate the two orange chairs on stage.

ATI had asked Dr. Dickison to sit down for a video interview with Sheryl Sommer, PhD, RN, CNE, Vice President and Chief Nursing Officer for ATI. The focus of their discussion? The Next Generation NCLEX and the need for increased clinical judgment among nursing students.


PUTTING CLIENTS AT RISK?
Dr. Dickison believes the nursing profession is facing a public-protection issue if nursing graduates don't adequately develop this critical skill. So, we wanted to find out more about his perspective.

With cameras rolling, for 45 minutes, Drs. Dickison and Sommer explored NCSBN's historic decision to develop a wholly new NCLEX to assess nursing students' clinical judgment skills.

We've excerpted portions of that interview to focus on specific topics that will help inform you about this momentous change. Check out the videos below to gain deeper insight:



NCSBN's Next Generation NCLEX: 3 Reasons It's Time for a Momentous Change



Clinical Reasoning vs. Clinical Judgment: What's the Difference for Next Generation NCLEX?




Clinical Judgment: Critical Components & Assessment
---