What Do You Need to Know About the Next Generation NCLEX? [VIDEO]
Jan 27, 2021, 16:38 PM
<1.25-min. read> NCSBN will launch the Next Generation NCLEX in 2023. Need a refresher of what it's all about? Watch this quick video.
---
OUR VIDEO ON NEXT GEN NCLEX EXPLAINS THE BASICS
The project is following 8 evidence-based steps.
1) DEVELOP THE CLINICAL JUDGMENT MODEL
The
National Council of State Boards of Nursing (NCSBN)
developed
the Clinical Judgment Measurement Model
consisting of five interacting layers. These layers illustrate the complex process of clinical judgment, including the context in which decisions are made.
---
Stay up-to-date on Next Generation NCLEX.
---
2) CREATE ITEM PROTOTYPES
Measuring clinical judgment requires unique item types — more than simply multiple-response questions. It's also going to require different scoring methodologies. The new test will penalize answers indicating a lack of clinical judgment.
3) TEST ITEM USABILITY
Students, nurses, and educators have reviewed item prototypes. They ensure the questions represent real-life clinical judgment scenarios.
4) COLLECT ITEM DATA
NCSBN added a "Special Research Section" to the NCLEX-RN and -PN with these new item types. Select students voluntarily answer the questions after completing the NCLEX. Students' responses don't impact their scores. But their answers provide valuable insight on question fidelity.
5) RESEARCH MEASUREMENT
Psychometricians have been continually reviewing data from student responses. They're identifying the most accurate measures of clinical judgment and nursing competence.
6) BUILD TECHNOLOGY
NCSBN will launch the new test in 2023. Until then, it is building the necessary technology and infrastructure to support the test.
7) PERFORM ALPHA/BETA TESTS
Multiple evaluations have been assessing test questions. NCSBN is scrutinizing every item type for those providing the highest accuracy.
8) LAUNCH NEW NCLEX-RN
The operational phase of testing item types will take 3-4 years. The launch of the new version of the NCLEX will be 2023.
---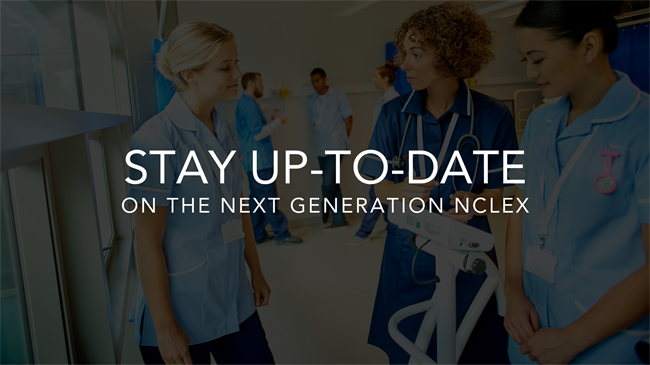 ---