PANDEMIC SELF CARE AS A NURSE REQUIRES OPTIMISM
May 19, 2020, 11:59 AM
<7-min. read> Don't give in to the negative impact of COVID-19 on your life. Focus on optimism as a key part of your self care as a nurse.
---
BOOST YOUR PANDEMIC OPTIMISM QUOTIENT AS PART OF YOUR SELF CARE AS A NURSE
BY CYNTHIA CLARK, PHD, RN, ANEF, FAAN
TO LIVE A FULFILLED LIFE, WE NEED TO KEEP CREATING THE "WHAT IS NEXT" OF OUR LIVES. WITHOUT DREAMS AND GOALS, THERE IS NO LIVING, ONLY MERELY EXISTING, AND THAT IS NOT WHY WE ARE HERE. — MARK TWAIN

YOU MAY NOT CONTROL ALL THE EVENTS THAT HAPPEN TO YOU, BUT YOU CAN DECIDE NOT TO BE REDUCED BY THEM. — MAYA ANGELOU
The ability to survive any crisis — and eventually thrive and prosper — begins with a vision for what's possible. While it would be reckless and irresponsible to ignore our current reality during the COVID-19 pandemic, it is equally unwise to ignore the future. Successful individuals focus on the way forward by setting a course for a better tomorrow and strategizing ways to get there. They bolster their professional currency and well-being, live according to their carefully crafted "why," and define a positive vision for the future.
Over the years, I have read and reread
"Man's search for meaning"
by Dr. Viktor Frankl
, an Australian psychiatrist well-known for his theory on
logotherapy
. The book chronicles Frankl's grueling confinement as a prisoner in a Nazi concentration camp during the Holocaust.
Frankl's gripping account describes how a positive vision of the future enabled prisoners to find a reason to live under the most deplorable and despicable conditions ever perpetrated on humanity. Frankl concluded that the meaning of life is found in every moment of living (as well as suffering) and that striving to find meaning in one's life is the primary motivational human force. He believed that although we can't always control our circumstances, we can control our personal outlook on life, our attitudes, and the way we choose to live our lives.
Frankl believed that each of us has the capacity to change our attitude in every situation, even those that significantly challenge our will to survive.
YOUR SELF CARE AS A NURSE IMPACTS YOUR INDELIBLE FOOTPRINT
As we reflect upon Frankl's teachings, let's consider the footprint we wish to leave during and after the COVID-19 pandemic. We must think wisely and carefully, because the footprint we leave will be indelible and memorable.
Author and pastor John C. Maxwell
once remarked, "When we die, they will summarize our entire life in one sentence and carve it into a piece of stone." What do we want that sentence to read? How do we wish to be remembered? How will others define our role, contributions, and impact?
Being mindful of how we relate and interact with others
might mean the difference between cultivating meaningful relationships and fracturing relationships.
During this pandemic, will we surrender to our fears and make imprudent decisions based on things happening outside of our control? Or will we step back, take stock of the situation, consider the way forward, and carefully determine the best course of action? Without a crystal ball to predict the future, the way forward may seem daunting. Yet, we can
use strategies as part of our self care as a nurse
to maintain balance, optimism, and positive thinking during this unpredictable time. Remember, positive thinking does not mean that we deny or ignore the current circumstances. Instead, positive thinking helps us focus on finding solutions to challenges rather than surrendering to fear or worry. It's how we pivot and respond during uncertain times that truly test our mettle and resolve. As battle-tested nursing warriors, we are clearly up to the challenge.
---
CLICK HERE TO DOWNLOAD THE INFOGRAPHIC AS A HANDY REFERENCE
---
5 TIPS FOR SELF CARE AS A NURSE DURING A PANDEMIC: STAYING POSITIVE AND OPTIMISTIC
1. USE COGNITIVE BEHAVIORAL TECHNIQUES
Cognitive behavioral therapy
is an effective approach for dealing with stress, anxiety, and mild to moderate depressive symptoms. In its simplest terms, cognitive behavioral therapy means that our thoughts influence our feelings, our feelings influence our behaviors, and our behaviors influence our thoughts.
To use this approach, think about replacing negative or harmful thoughts with an image such as the "off" position on a light switch or TV remote, a stop sign or red light, or the steps of "Ctrl+Alt+Delete" for PC users — a computer combination used to reset or reboot. Use the image to interrupt or turn off the negative, intrusive, or harmful thoughts. Then, take 1 or 2 deep, cleansing breaths, and replace the negative thought with a positive image.
Maybe the positive image you imagine is a vision of your child or grandchild, or yourself ascending the summit of a mountain peak, or simply feeling the sun on your face as you relax on a sandy beach. Select your special image and use it to replace negative thoughts as a key part of your self care as a nurse.
I often use a cognitive strategy that involves silently asking myself a question. For example, before an encounter with a colleague, I ask myself, "What's it like for my colleague right now? What might that person be experiencing or going through?" This cognitive action helps put me in a collegial mindset — and reminds me to interact with empathy and goodwill.
2. ARTICULATE POSITIVE AFFIRMATIONS
Positive affirmations are powerful tools to help shape our overall mindset, outlook, and worldview. Select affirmations that resonate with you, and repeat them often.

Here are a few examples to get you started as you focus on your self care as a nurse during this troubled time and build your personal affirmation toolbox:
I can get through tough times, because I've done it before.
It's okay that yesterday wasn't ideal. I'm ready to try something different to problem-solve the situation today.
Even though this pandemic wasn't in our plan, we'll make new plans and discover the future together.
We're creating new "best practices" that will revolutionize nursing education.
Today will surely bring new challenges and unexpected wins, and I'm ready for both.
We are clearly making history — and we can be the heroes in this story!
3. FOCUS ON PREVIOUS ACHIEVEMENTS AND SUCCESSES
Reflect on times in your life when you have faced and overcome trials and difficult challenges. Savor these accomplishments and use them as inspiration to confront current and future obstacles. Shifting attention to triumphs and what you've achieved in the past can help turn demanding and trying times into opportunities for growth and enlightenment.
4. REFRAME YOUR THOUGHTS
Reframing is a cognitive technique used to look at a situation differently by changing its meaning and viewing situations from a different perspective or point of view. As humans, we construct our mental models from prior experiences, life events, successes, and conditioned ways of thinking. Sometimes, we can become entrenched in our thinking which narrows our view of the world.

During the pandemic, it's not uncommon for individuals to feel isolated, lonely, or negative. Reframing begins with identifying and acknowledging what we are experiencing and restating the experience toward a more positive direction. Here are a few examples that might be used during the COVID-19 pandemic to enhance your self care as a nurse:
Statement: "Being quarantined and confined at home is a major pain."
Reframing the statement: "Being at home has given me more time to spend with my family and take better care of myself."
Statement: "Teaching online and being physically distanced from my students is overwhelming and depressing."
Reframing the statement: "While teaching online isn't my favorite way of interacting with students, technology provides a means to stay involved and connected."
Statement: "This pandemic will never end. Life will never be the same."
Reframing the statement: "This pandemic won't last forever, and we will emerge from this experience more creative, nimble, innovative, and resilient."
5. EXPRESS GRATITUDE
When we express gratitude and appreciation for the people, places, creatures, and things around us, our stress level decreases and helps us put life into perspective. Expressing gratitude is also a way to boost happiness levels. Each day or when feeling stressed or overwhelmed, think about a person, experience, event, or thing for which you are grateful and reflect upon it for several seconds or record your thoughts it in a journal. Conveying gratitude trains our brain to see the positive and may be one of the most effective strategies in achieving and maintaining a contented life. During this pandemic, perhaps you are grateful for the opportunity to slow down, self-reflect, focus on your self care as a nurse, reconnect with friends and neighbors, learn to cook in new ways, and work in your pajamas.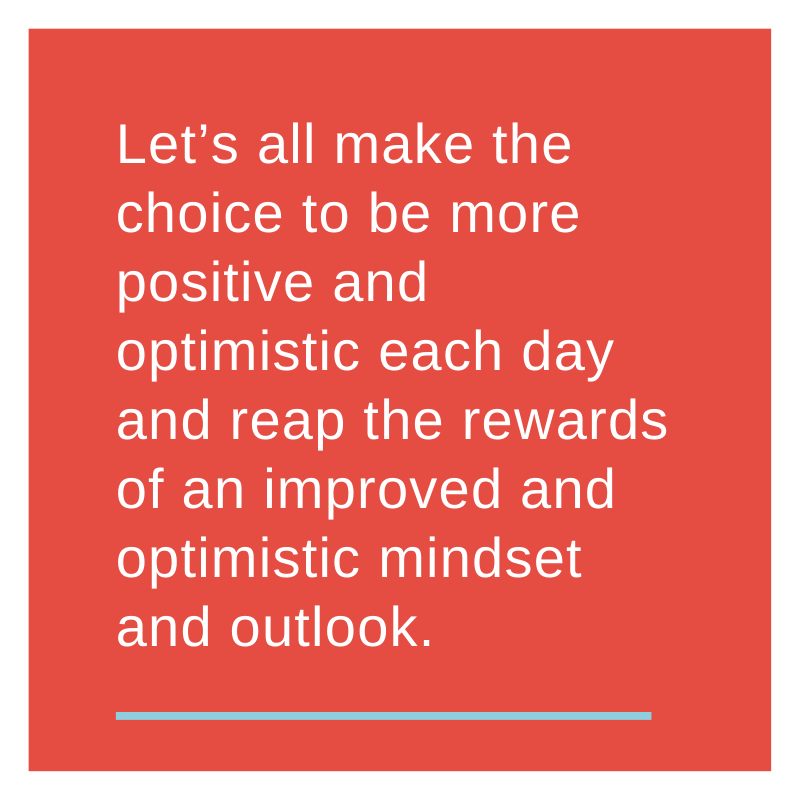 Adopting a growth mindset, reframing our thoughts, and expressing gratitude can boost our optimism quotient. Thinking positively, albeit difficult during this challenging time, is a skill that can be practiced and honed.
Let's all make the choice to be more positive and optimistic each day and reap the rewards of an improved and optimistic mindset and outlook.
The author:
Cynthia Clark, PHD, RN, ANEF, FAAN
, is Strategic Nursing Advisor at ATI.
---
HOW HAS THE CORONAVIRUS PANDEMIC IMPACTED YOUR OPTIMISM? SHARE YOUR POSITIVE-THINKING TIPS IN THE COMMENTS BELOW.
---