How to make the most engaged students online with 11 popular tech tools
Mar 26, 2020, 15:56 PM
<3-min. read>A significant challenge when teaching students remotely is keeping them engaged with your course material. Right now, students are easily distracted with concerns for themselves, family, and friends, as well as trying to learn in settings that may be less than conducive to focusing on their studies. These considerations make it all the more important to find tools that create interactive and fun ways to build their comprehension and retention.
---
---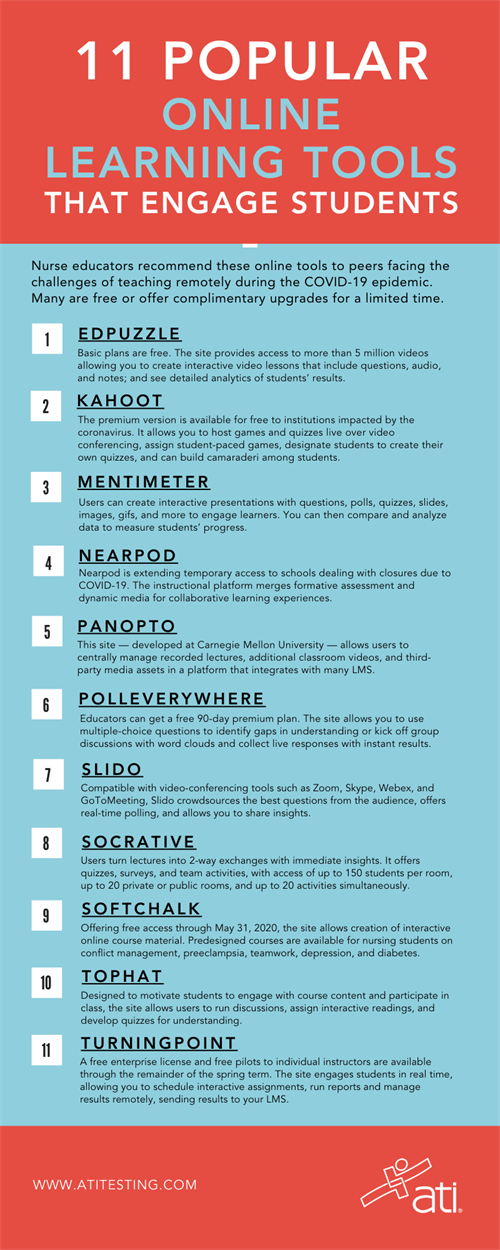 Luckily, a variety of online tools allow you to easily incorporate quizzes, polling, videos, and more with whatever learning management system (LMS) you use. Other sites — while not necessarily connecting directly to LMS platforms — are simply so fun and easy to use that they have built strong followings among both students and educators.
Here, we've gathered a list of these resources based on recommendations from nurse educators sharing tips online to help peers face the challenges of the COVID-19 epidemic. Many are offering free access or complimentary upgrades for a limited time.
EdPuzzle
Basic plans are free for teachers and students.
The site provides access to more than 5 million videos allowing you to create interactive video lessons that include questions, audio, and notes; and see detailed analytics of students' results.
Kahoot
The premium version of this quizzing tool is currently available for free to educational institutions impacted by the coronavirus.
The tool allows you to host games and quizzes live over video conferencing, assign student-paced games, lets students to create their own quizzes, and can help build a sense of community as students get to know one another.
Mentimeter
Users can create interactive presentations
with questions, polls, quizzes, slides, images, gifs, and more to engage learners. You can then compare and analyze data to measure students' progress.
Nearpod
Nearpod is extending temporary access to schools dealing with closures due to COVID-19.
The instructional platform merges formative assessment and dynamic media for collaborative learning experiences.
Panopto
This site — developed at Carnegie Mellon University
— allows users to centrally manage recorded lectures, additional classroom videos, and third-party media assets in a platform that integrates with many LMS.
PollEverywhere
A complimentary 90-day premium plan for educators affected by COVID-19 is currently available.
The site allows you to use multiple-choice questions to identify gaps in understanding or kick off group discussions with a colorful word cloud. You can collect live responses and see results instantly.
Slido
Compatible with video-conferencing tools such as Zoom, Skype, Webex, and GoToMeeting

,
Slido crowdsources the best questions from the audience, offers real-time polling, and allows you to share insights.
Socrative
The platform allows users to turn lectures into 2-way exchanges
with immediate insights. It offers quizzes, surveys, team activities, and content from educators across the world with access of up to 150 students per room, up to 20 private or public rooms, and up to 20 activities simultaneously.
SoftChalk
SoftChalk is offering free access through May 31, 2020, during the COVID-19 threat.
The site allows you to create interactive online course material with some predesigned courses for nursing students, including conflict management, preeclampsia, teamwork, depression, and introduction to diabetes management.
TopHat
Designed to motivate students to engage with course content and participate in class,
the site allows users to run discussions, assign interactive readings, and quiz for understanding.
TurningPoint
In response to the coronavirus, the site is offering a free enterprise license, or free pilots to individual instructors, for the remainder of the spring term.
The site promotes its ability to engage students in real time, schedule interactive homework assignments, take attendance, run reports and manage results remotely, and send results to your LMS.
---
Do you use an app or website not mentioned here? Share a link in the comments with your recommendation for why it's been beneficial to your students' learning.