How to hurry your classroom online: 8 helpful questions
Mar 26, 2020, 16:19 PM
<3-min. read> Your choice of learning management system (LMS) is likely determined by your school. But you may not be as familiar with its features as other faculty who have been using it regularly prior to the COVID-19 pandemic. To help you make the transition for implementing this tool as smooth as possible, consider these questions.
---
---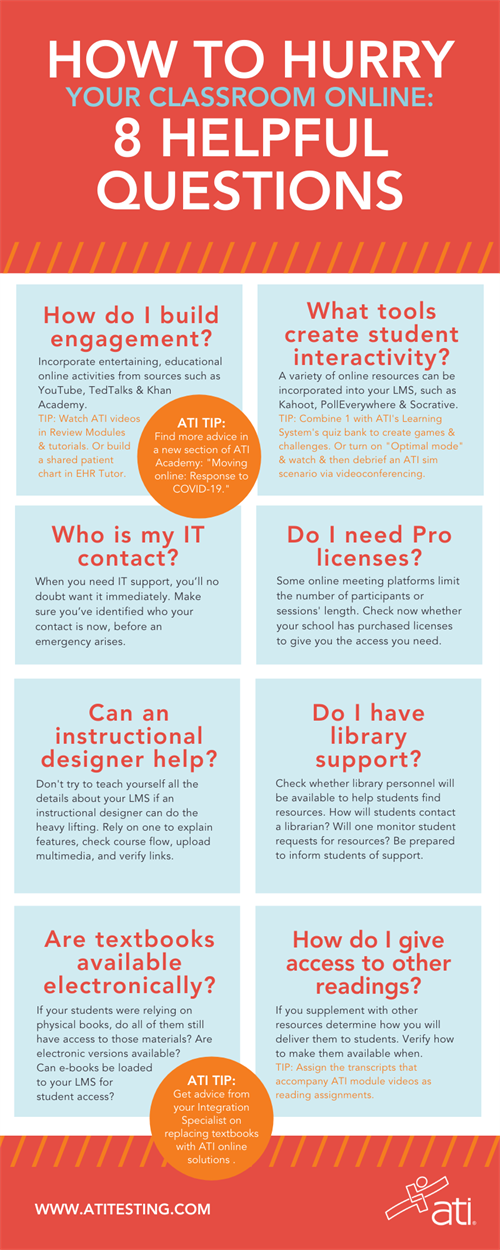 1. Who is my I.T. support?
When you need them, you'll want their help immediately. So make sure you've identified who your contacts are now, before emergency needs arise.
---
2. Do I need licenses to Pro versions of support software?
Some online meeting platforms, such as GoToMeeting or Zoom, have limits on how many people can join at one time or have time limits on their use. Check now whether your program or school has purchased the licenses that will give you the access necessary to communicate and interact with your students.
---
3. Will an instructional designer be available to help?
If you haven't used an LMS before, you may not be familiar with its requirements and offerings. If your program has instructional designers on staff, you may be able to save time in learning about the system on your own and, instead, get their help in reviewing available features, making sure your course flows well, identifying how to upload videos or other multimedia options, and checking that all links work for you.
---
4. Do I have library support?
Students will undoubtedly need access to library resources, but they may be used to simply walking in the library's doors and getting help from a librarian face to face. Check, then, whether library personnel will be available to help students find resources. How will students contact library staff? Through email? Will a librarian monitor student requests for resources, such as electronic article selection? Learn the answers to these questions early so you can let students know what support is available.
---
5. Are the textbooks required for my course available electronically?
If your students were relying on physical books, do you know for sure that all of them have access to those materials? (Some may not have been able to retrieve them from campus before they were told all classes were moving online.) Are electronic versions available? Can e-books be loaded to your LMS to give students access? What other alternatives do you have to providing students with the access they need?


Review ATI's online library of electronic books for both RN and PN programs that cover topics from "Fundaments of Nursing" and "Mental Health Review" to "Pharmacology" and more. A PDF of "Ready Set RN: Preparing for the NCLEX-RN" is also available.
---
6. How do I provide access to other reading assignments?
If you intend to supplement other resources, such as journal articles, how will you deliver these to students? Scan and post? Email? Provide a link? Verify what resources you want to be available students as soon as possible to make sure they'll be available when you expect to share them.

Assign the transcripts that accompany ATI module videos as reading assignments.
---
7. What tools are available to encourage student interactivity?
A variety of online resources can help engage students and can be incorporated into your LMS. If you aren't familiar with them, check out the options below. (Read about special deals currently offered for each, along with a description of their features, in "How to make the most engaged students online with 12 popular tech tools.")

Use your choice of these online tools in conjunction with ATI's Learning System 3.0's bank of quizzes to easily and quickly create interactive games and challenges.
Assign a Real Life (or other simulation) scenario to students. Then, turn on the "Optimal decisions highlighted mode" and, using your video-conferencing platform," watch synchronously with your students and debrief afterward. (Reference the Educator Implementation Guides that accompany each ATI solution for additional implementation strategies.)

---
8. What other resources can make my course more engaging?
You've likely taken advantage of some web-based options before, but you'll likely need to rely more heavily on these resources now as you strive to incorporate entertaining and educational online activities. Check out options such as:

Take advantage of ATI explanatory videos used within our Review Modules. Access an index via the "Resources" link in the far-left column after you log in to the Faculty Portal. Click on the section "eBooks and Active Learning." Additionally, share videos from one of our many learning solutions, such as one of our Dosage Calculation and Safe Administration tutorials. Using Zoom or another video-conferencing platform, you can bring complex dosage calculations to life by showing the interactive application exercises.

Check out new videos specifically created for you that offer tips for generating online engagement with students. Located in ATI Academy, search for "Moving online: Response to COVID-19." You'll find prerecorded sessions such as "ATI resources for virtual learning: How to enhance educational opportunities with simulation solutions" and "Best practices for moving your classroom online."

Create interactive lessons by building a shared patient chart in EHR Tutor on which all students work asynchronously. As students refresh the chart, they can see other students' changes and additions. Or pull up Learning System 3.0 via your conferencing platform and poll students about different aspects.
---
Share your own tips for getting your online classroom set up quickly in the comments below.