For your best TEAS score, use our prep products together.
We recommend allowing at least 6 weeks of preparation prior to taking the TEAS. On a tighter schedule? Don't worry – we have solutions that fit any timeline.

Practice Assessment B
Get a baseline score highlighting subjects that need improvement.

SmartPrep
Study what you need help on most with our customized study plan.

Study Manual
Learn test-taking strategies, exam day tips, and study further.

Practice Assessment C
Test your comprehension with our Online Practice Assessment Form C.
---
Includes:
Two Online Practice Assessments
Get access to 300 practice questions.
Our practice questions reflect actual questions you'll come across on the ATI TEAS to boost your exam-day confidence.
Ongoing Score Reports
Each assessment provides an end-of-test score report to show where you stand, how you can best improve and specific topics you should review.
See Detailed Rationales
Along with an indication of a correct or incorrect answer, you'll receive detailed rationales and logic for further comprehension.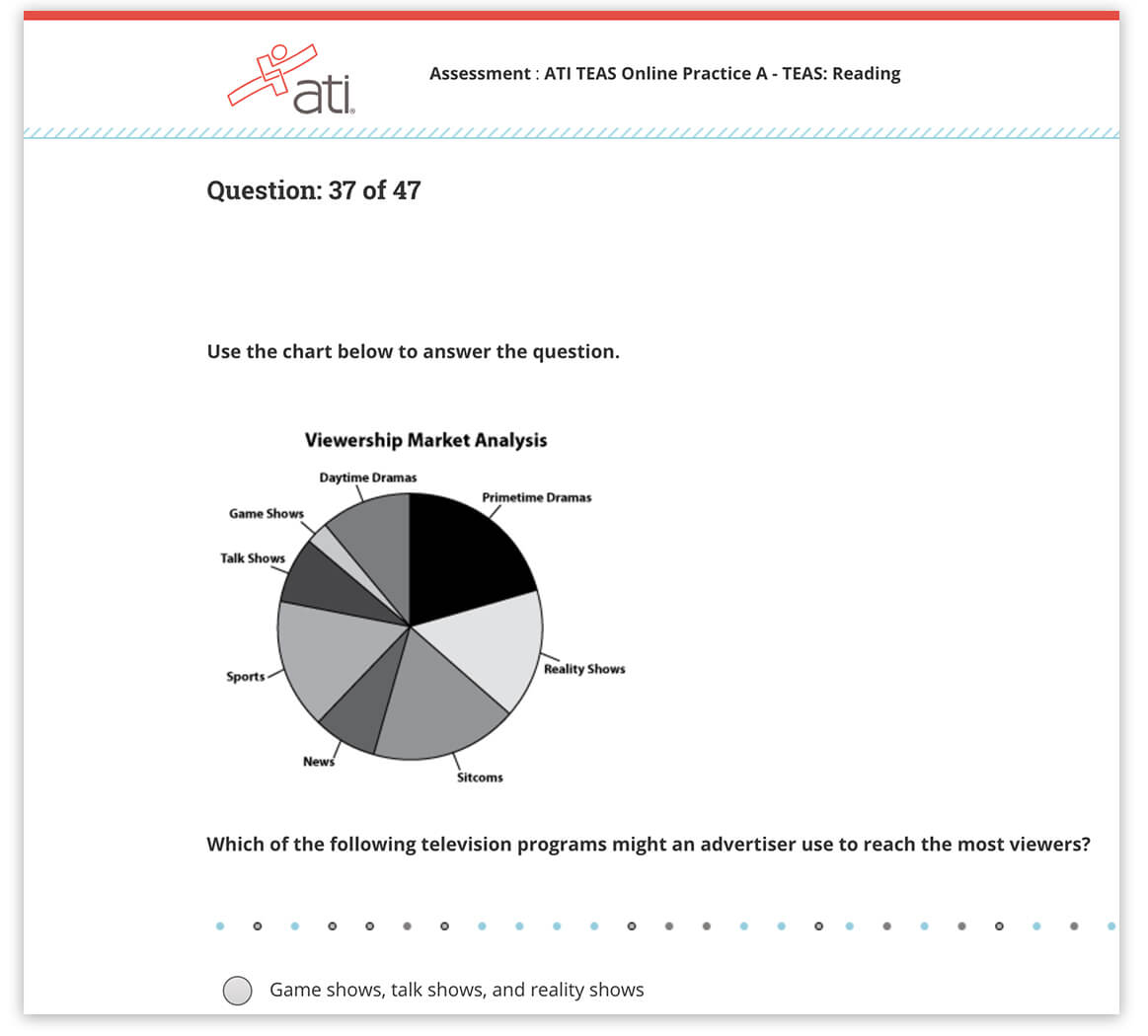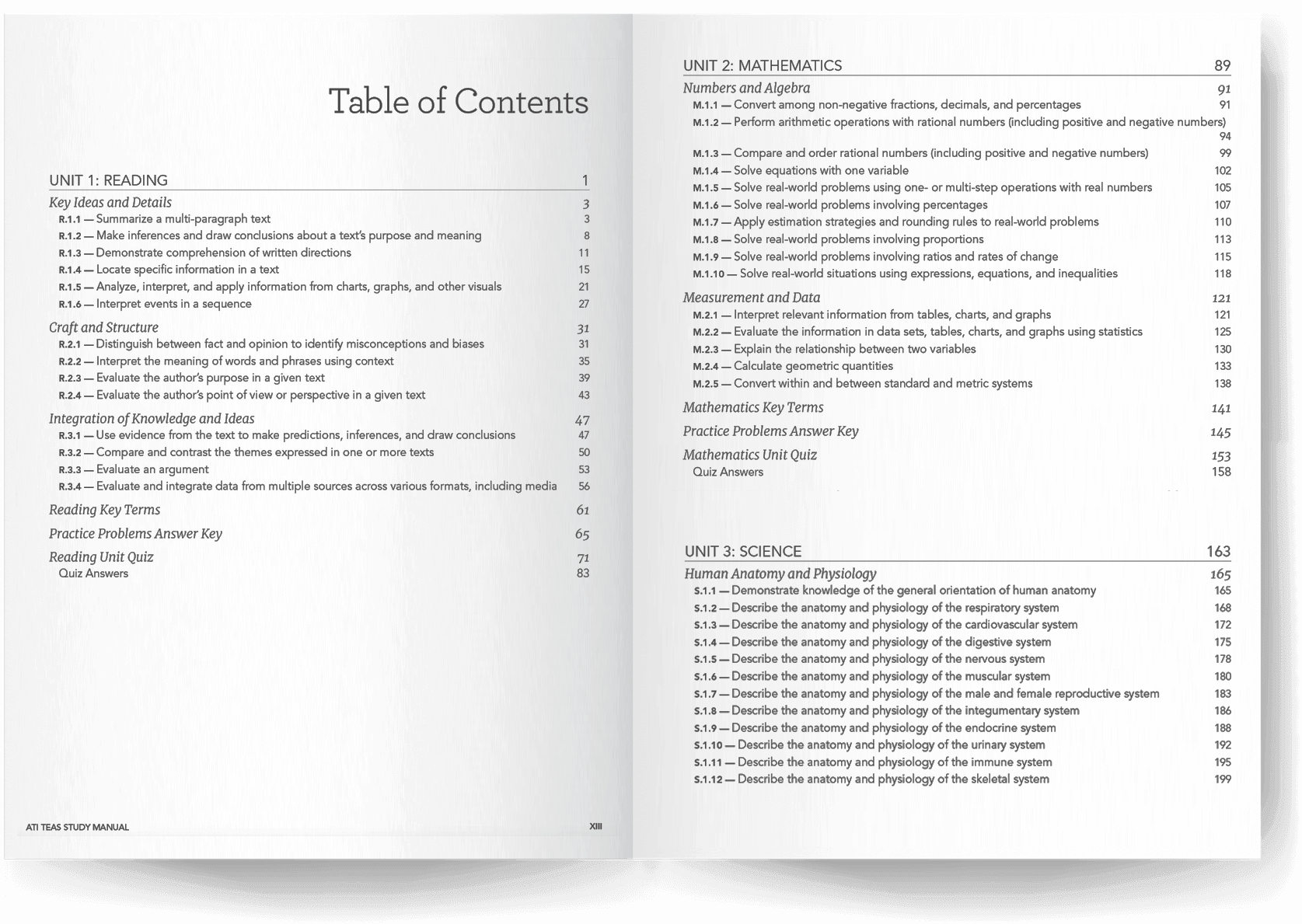 Includes:
Printed Study Manual
Perfect Companion to Online Practice Assessments
The printed study manual is referenced in your online practice test score reports providing you with additional details on important terms and concepts.
Prep Strategies for improved test-taking
Learn more about how to approach the exam, what to bring to the exam, how things will be presented and more.
Get Additional Practice Questions & In-Content Glossary
The printed study manual offers a total of 40 post chapter review questions and 150 total end-of-section quiz questions. It also provides definitions of key terms throughout each section.
Includes:
SmartPrep Tutorial
Create a Personalized Study Plan
The SmartPrep Tutorial creates a personalized study plan based on the content that you need to focus on the most. This is possible through advanced algorithms that interpret your pre-test results.
Detailed Rationales for right and wrong answers
Receive explanations for every question & answer, including pretests, end-of-section tests, in-section comprehension check questions, and more.
Rich media for different learners
Interact with videos, diagrams, images, and more for a deepened understanding of content topics.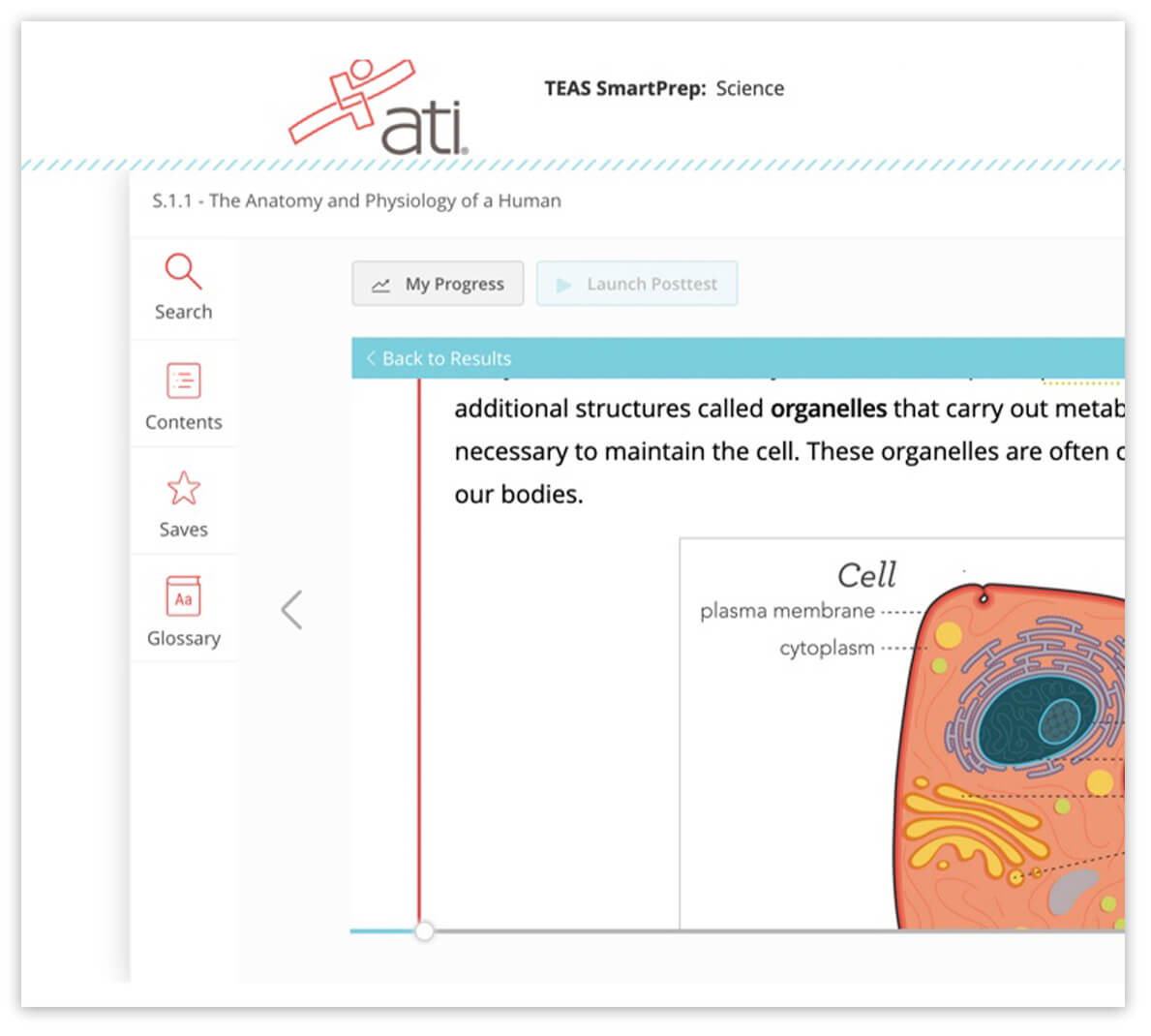 ATI TEAS Smartprep is available for unlimited use for 90 days. After 90 days, there will be a $30 fee to activate your SmartPrep account for an additional 90 day period. To renew the SmartPrep Tutorial please login to your student account.
Start Prepping today.
Save $50 with coupon code: TEASFB50
Add To Cart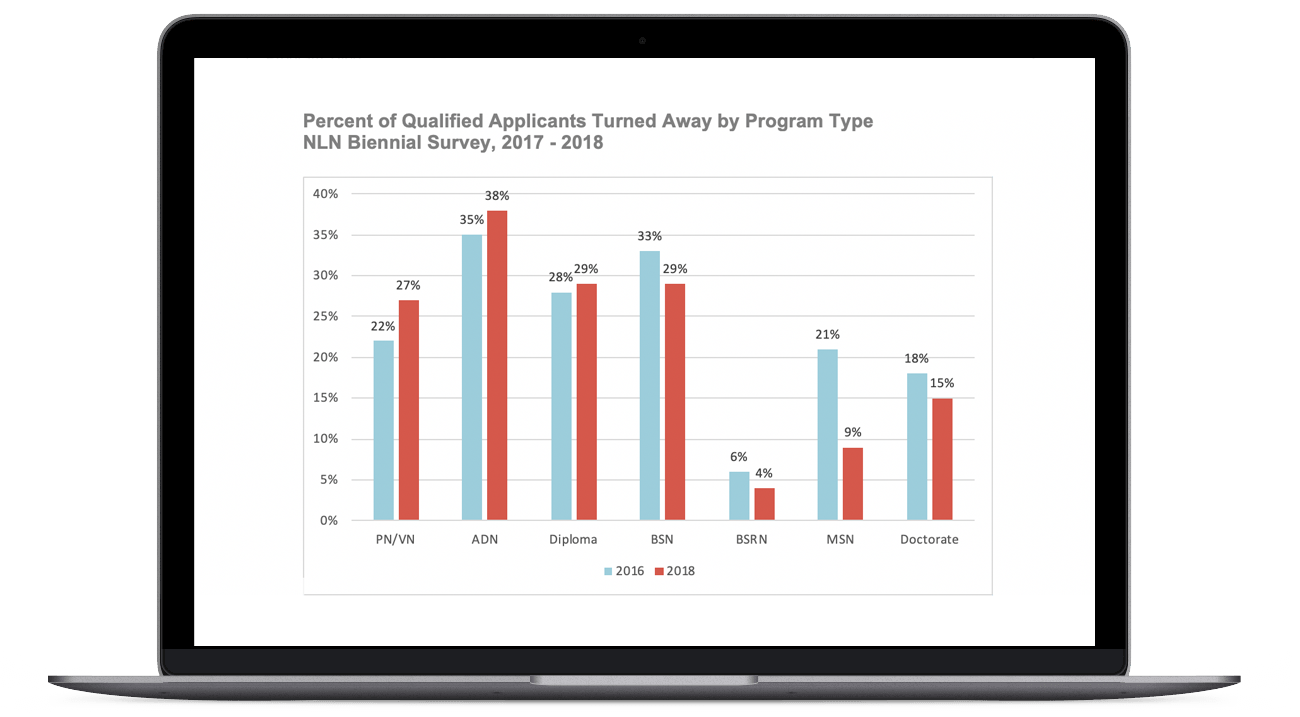 Don't just prep to pass - prep to earn your highest score.
Passing the TEAS is a key component of getting into nursing and allied health schools, but 30% of qualified applicants are turned away from ADN, Diploma and BSN programs. Since it's a comprehensive exam, you'll be tested on four different subject areas, so thorough preparation is crucial. We recommend allowing at least 6 weeks of preparation prior to taking the TEAS. On a tighter schedule? Don't worry - we have solutions that fit any timeline.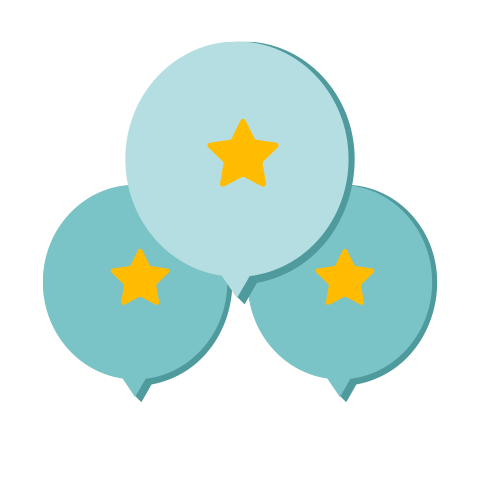 It was my third time taking the test but this time I had assistance. The SmartPrep Package told me what to study and what to improve on… I almost cried when I found out my TEAS score... I scored a 90 and I couldn't believe it.
Alexzandra E.
What Other Items Customers Buy After Viewing This Item: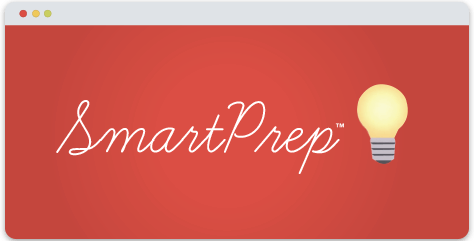 $189Save 20% with coupon
code: TEASSpring20
---
The most complete prep package on the market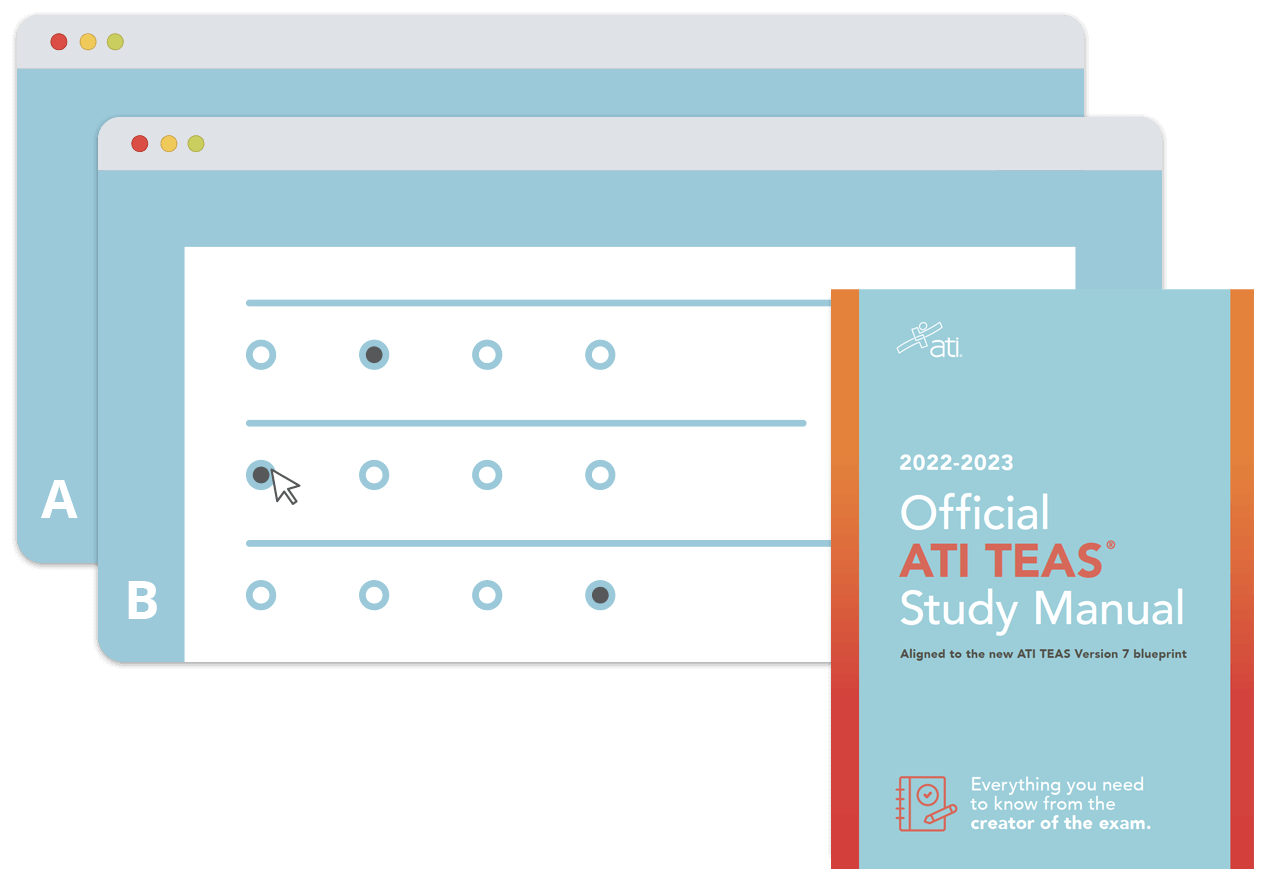 Basic Study Package
$90 $125 value
Free ground shipping with
coupon code: TFREESHIP
---
Receive both practice assessments and our study manual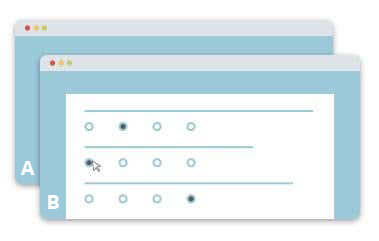 Practice Assessment Package
$80$100 value
Save 20% with coupon
code: TEASSpring20
---
Recieve both practice assessments and save.