Teaching & Learning
It's crucial that your faculty is well trained, academically proficient and performing to the best of their abilities. Our nursing consultants will work with you and your faculty to enhance their use of instructional techniques, such as active learning strategies, that support student-centered learning. Through active learning, students are more engaged in the learning process, which facilitates the development of evidence-based clinical judgment and safe practice.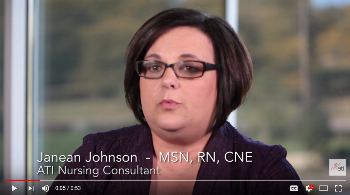 Let Us Help You
Ensure faculty has access to the newest teaching tools
Create a student-centered, learning-focused environment with active instructional strategies
Use research to expand the faculty's repertoire of evidence-based approaches to student learning
Improve student engagement during the learning process
Enhance item writing and test blueprinting skills through both on-site and web-based activities
Increase program test scores and NCLEX pass rates Case Study
Muskingum University nursing faculty wanted additional training on writing NCLEX-style items and instructional strategies. ATI Consultation Services delivered workshops on both of these areas to help improve test question rigor, teaching methods, and ultimately, NCLEX success.
Read More
National Nurse Educator Summit
Each year, the top thinkers, lecturers, and teachers in nursing education gather at the ATI National Nurse Educator Summit. Join us and be part of this small and exclusive group. You won't have a better chance to collaborate and learn with some of the brightest minds in nursing education.
THE WESTIN SAVANNAH HARBOR GOLF RESORT & SPA | SAVANNAH, GEORGIA | MARCH 31 - APRIL 3
Learn More
EducatingNurses.Com
ATI and Dr. Patricia Benner have collaborated to deliver her innovative online faculty development program, EducatingNurses.com, to nursing programs across the country. This groundbreaking experience includes videos, articles, and other resources all designed to help nurse educators transform their programs.
Watch Video
Learn More
ATI Academy
ATI Academy is a comprehensive lineup of live and recorded webinars designed to help you excel and expand your knowledge as nurse educator. Whether you want product information or professional development, ATI Academy has you covered.
Learn More